'At least we earn our money honestly': Footballers furious with Hollande's 'brain gym' advice
Published time: 13 Oct, 2016 15:39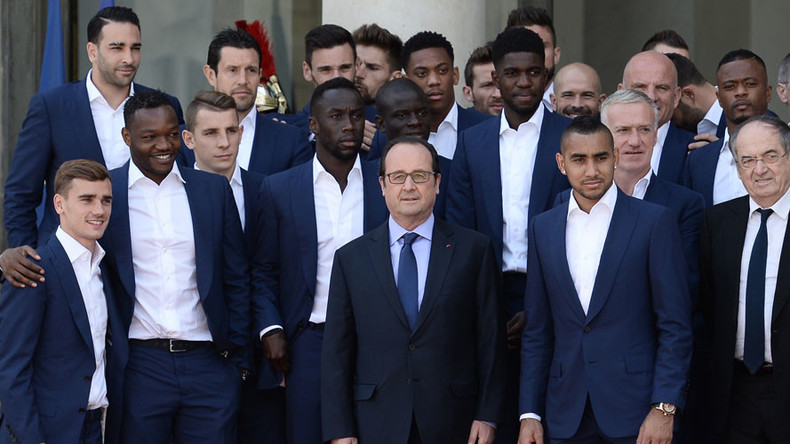 French footballers have gone ballistic over French President François Hollande's musings revealed in a new book that collected a number of his controversial statements, including his advice that footballers need "gym classes for the brain."
Among other things, the new book, entitled 'A President Shouldn't Say That…' by two journalists from the daily Le Monde, quotes Hollande harshly criticizing the French football team, saying they have "no values" whatsoever.
"They went from badly educated kids to wealthy stars, with no preparation. They are not prepared psychologically to know what is right or wrong," Hollande said, as cited by Gerard Davet and Fabrice Lhomme. He also reportedly made reference to the "ghettoization, segmentation and ethnicization" of French football.
"The [French Football] Federation should not be organizing training sessions but classes. Gym classes for the brain," he added.
This has not gone unnoticed.
"Playing football has never prevented me from reading books," former French player Franck Leboeuf said. "I expected better from François Hollande, but that really is stooping low," he added, lci.fr reported.
"I was disappointed, but I wasn't surprised," another prominent French player, former World Cup winner Emmanuel Petit said, referring to Hollande's remarks, sport.fr reported.
"For too long now, we athletes, the footballers, have been looked down upon with a lot of condescension by our dear politicians. It's true that we don't have a chance to study at the ENA [École Nationale d'Administration]," in reference to the elite training college from which Hollande graduated.
"I would give them [politicians] gym classes for the brain and even probity for the political classes," he added. "Notably in intellectual honesty or in just honesty full stop."
Unlike politicians, footballers "don't steal money from people but earn it honestly. We're not born with a silver spoon in the mouth."
Former French national coach Raymond Domenech said football plays a key role in children's education.
"Football, often maligned, has replaced the education which parents and state education have all failed to give," Domenech noted, Europe 1 reported.
Footballer Jonas Martin used Hollande's famous 2012 "Moi President de la Republique" speech to respond to the president.
"Moi professional French footballer… I learned to respect the people and institutions thanks to the teachers at my former club," Martin wrote on Twitter.
"Moi professional French footballer… I have never let down my public and reneged on my commitments to the club," he said