NHL's Las Vegas expansion team to reveal name on Nov. 18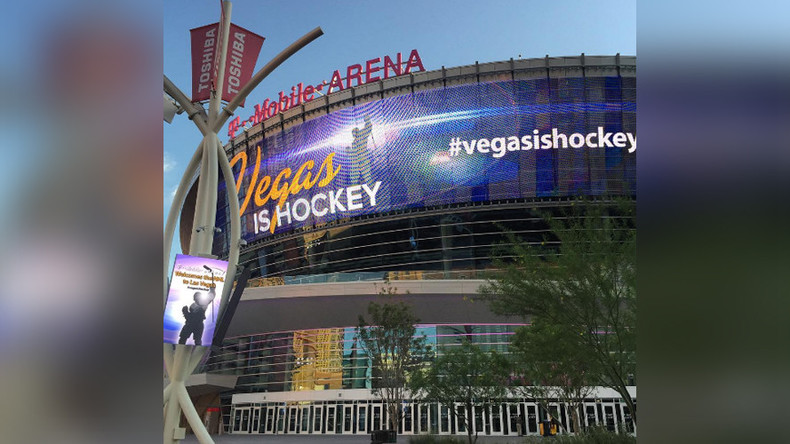 The newest NHL expansion team's general manager, George McPhee, has disclosed the date on which the name, logo and franchise colors will be announced, during the team's Fan Fest on Saturday.
The last time the NHL added teams to the league was in 2000, when the Columbus Blue Jackets and the Minnesota Wild raised the number of teams up to 30.
Neither team has so far managed to win the Stanley Cup, but McPhee thinks that the as-yet unnamed team could deliver success quickly as top players would be happy to ply their trade in Las Vegas.
"I think they're going to love it here," McPhee said at the fans' forum at the Las Vegas Toshiba Plaza on Saturday, reviewjournal.com reported.
"Why wouldn't you want to come here? Seriously. Why wouldn't you want to live here?
"It's a fantastic place to live and work. Whether you want to live down here on The Strip or live out in the suburbs, there are great places to live.
"We have great facilities, great ownership. Easy to get around. Lovely people in this community. Really, really nice people here.
"So I think it's going to be a fantastic place to play, and our objective is to win quickly and to ultimately win the Stanley Cup.
"Players will go anywhere if it's a good team to win a Cup, and they're certainly going to want to come here, because it's better than a lot of places."
McPhee was joined by the team's owner, Bill Foley, at the event to answer a series of questions about the NHL's newest club.
The pair had barely settled into their seats when the inevitable first question was fired in their direction.
"When will the team's nickname be announced?" a fan asked.
"I knew that one was coming!" Foley said. "But we're shooting for November 18 here at Toshiba Plaza. It's not finalized. We're working with the arena on the date.
"We're tinkering with the final colors. We really want it to pop when you see them on our jerseys. But the logo's been picked. The name's been picked. I think George knows the name."
McPhee admitted he knew the name, but said as he hadn't told his own wife and kids, he wasn't about to give the game away now.
The possibility of the NFL's Oakland Raiders relocating to Las Vegas was also raised, but Foley rejected the idea that such a move would impact on his team.
"I'm not going to be politically correct here," he said. "But I believe if you're going to spend $750 million of the public's money, it should be on policemen, firefighters and teachers.
"We have our fanbase, and they have theirs. The Raiders will be irrelevant to us."
Foley discussed a range of other topics, including confirmation the organization would have its own local television deal and would also be creating an extensive youth hockey program.
When asked whether the new franchise would be competitive, McPhee said he was confident the team would be able to hit the ground running.
"We're going to take the most valuable assets we can get," he said. "We're going to end up with a real nice hockey club from the expansion draft and from the entry draft."
Las Vegas will be the third among the 31 NHL teams for the entry draft on June 23 and will pick no lower than sixth. It could get the top selection if the lottery is favorable.
There is no lottery for the June 20 expansion draft. McPhee and his staff began their first mock expansion draft Saturday morning and will complete it Sunday.
"I'm encouraged by what I saw today," McPhee added. "I went in somewhat pessimistic. But with our whole staff here today, I feel we're going to be better.
"You have speed and skill, and you have size and you have grit, and you have character and leadership.
"So we're going to just build the best darn team we can build and have all those elements, because ultimately to be able to win, you have to be able to beat a bunch of good teams that play different styles.
"Ideally you want a younger team to work with, but we're going to take the most valuable assets that we can get, because if they can't play for us, they can play for someone else and we can turn those into even more assets."