Rising MLB star Jose Fernandez killed in Florida boating accident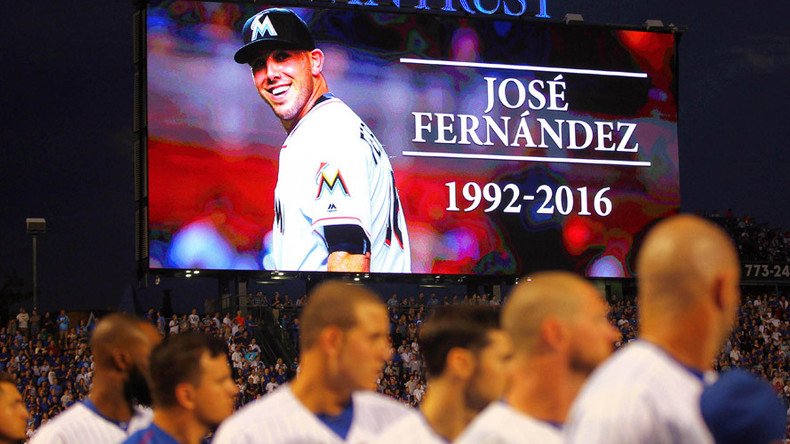 Major League Baseball is in mourning after one of its most-promising young players, Jose Fernandez, died in a boating accident off the coast of Florida in the early hours of Sunday morning.
Fernandez, a 24-year-old pitcher for the Miami Marlins, was among three people pronounced dead following the incident.
The ball-player and two other victims, aged between 24 and 27, died when the 32ft (10m) boat crashed on to rocks, overturning on a jetty, off Miami Beach at around 3.30am local time on Sunday.
It's reported that alcohol was not thought to have been a factor and no illicit drugs were found at the scene.
However, the boat is believed to have been traveling at high speed when the accident happened.
The Miami Marlins were due to host the Atlanta Braves on Sunday, but the match was canceled following the tragedy.
In a statement, the club said: "The Miami Marlins organization is devastated by the tragic loss of Jose Fernandez. Our thoughts and prayers are with his family at this very difficult time.
"Today's game against the Atlanta Braves has been canceled."
One of the most exciting young players in baseball, Fernandez won the National League rookie of the year award in 2013 and was twice named in the All-Star side, which recognizes the best players of the season.
Fernandez – who posted an Instagram photo of his pregnant girlfriend Carla Mendoza just last week – rose to stardom after his defection from Cuba in 2007.
"Sadly, the brightest lights are often the ones that extinguish the fastest," Marlins owner Jeffrey Loria said in a statement.
"Jose left us far too soon, but his memory will endure in all of us. At this difficult time, our prayers are with his mother, grandmother, family and friends."
The only Sunday's MLB game between the Chicago Cubs and the St. Louis Cardinals started with the minute of silence in the memory of Jose Fernandez.
You can share this story on social media: