UEFA elects Aleksander Ceferin as new president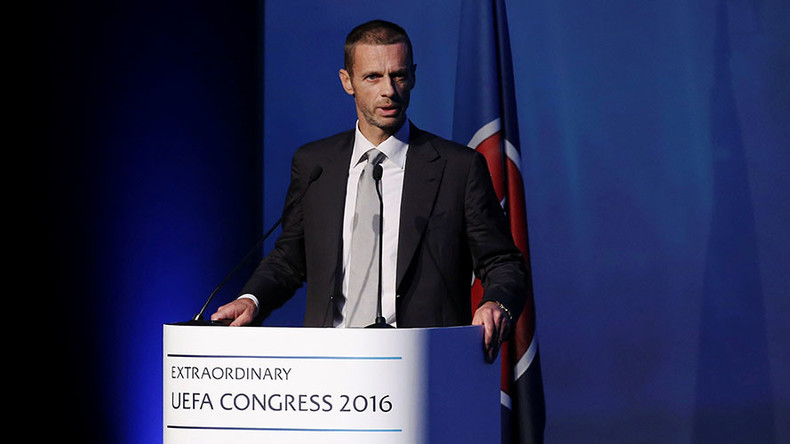 Slovenian Aleksander Ceferin has been elected as the new president of UEFA at a meeting of European football's governing body in Athens, Greece.
The 48-year-old received 42 of the 55 votes from UEFA members to defeat Dutch football administrator Michael van Praag and become the organization's seventh president.
Ceferin has been head of the Slovenian Football Association and part of UEFA's Legal Committee since 2011.
"My family is very proud of me," Ceferin said after his victory was announced.
"My small and beautiful Slovenia is very proud of me. I hope one day that you will be proud of me.
"It is a great honor, but also a great responsibility."
Key parts of Ceferin's manifesto included a pledge to tackle match-fixing and a more transparent bidding process for the Champions League finals and European Championships.
He also vowed to reopen negotiations over the allocation of four guaranteed group stage places in the Champions League to England, Germany, Italy and Spain from the 2018/19 season.
Van Praag was quick to congratulate Ceferin after the result, saying that he shared the same aims as the new president.
"Aleksander and I have the same goal," he said.
"We want a different UEFA, we want a better UEFA - but he wanted to do it his way and I wanted to do it my way."
Ceferin takes over from French ex-international midfielder Michel Platini, who resigned after being banned from all football-related activity last year.
The disgraced former president was controversially allowed to give a farewell speech to European football's governing body at Wednesday's congress.
The Frenchman insisted he had done nothing wrong and vowed to continue the fight to clear his name.
He was applauded by the delegates, but did not get a standing ovation.
"It's very emotional for me to be here but I'm also delighted to be here because this will be my last speech to a UEFA Congress," Platini said.
"You are going to continue this wonderful mission without me for reasons I don't want to go into today.
"I have a clear conscience - I am certain not to have made any mistake and will continue to fight this in the courts.
"Thank you. Thank you for these nine years. I think we did a great job. Friends of football, farewell."
Platini was suspended over his dealings with former FIFA boss Sepp Blatter during the scandal which rocked football last year.
The pair were banned over a payment of $2.08 million made in 2011 to the Frenchman by FIFA with Blatter's approval for work done 10 years earlier.