Dutch soccer fans organize teddy bear toss for sick children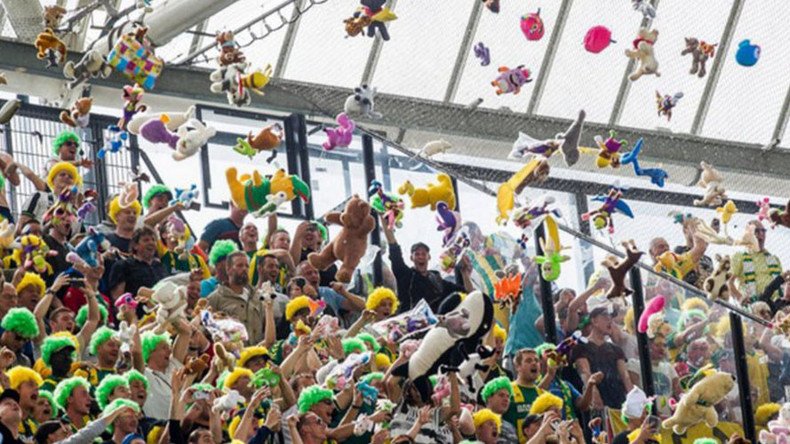 Fans of Dutch soccer club ADO Den Haag produced a glorious act of kindness in their Eredivisie match away to Feyenoord by throwing cuddly toys to sick children seated in the tier below them.
Holland is a country famed for its quirky and committed soccer support: Ajax FC fans sing Bob Marley's 'Three Little Birds' before every game, national team fans regularly dress in coruscating bright orange fancy dress, and the 2014 World Cup homecoming was celebrated on stage with techno group Swedish House Mafia.
But the latest headline-grabbing show of support from the Netherlands came in the form of a touching gesture to sick children from fans of Eredivisie team ADO Den Haag.
In advance of their match away to Feyenoord, Den Haag supporters were told they would be sharing the away section with patients from the local Sophia Children's Hospital, Rotterdam, seated in the tier below.
A kindly Den Haag supporters' group spread the message among fans to bring cuddly toys if they were attending the match at Feyenoord's De Kuip stadium.
A statement posted on Twitter before the game said: "A call to all away supporters. Take with you a little cuddly toy to the game.
"Just make sure there are no hard things are in the toy. So no beads and buttons, Children from the Sophia Children's Hospital will be under us at the away end.
"Throw your cuddly toy to them in order to make an unforgettable day a lasting memory!"
With 12 minutes of the game played, the Den Haag fans in the upper tier began a countdown before treating the children sitting below to a shower of cuddly toys to give them a matchday to remember.
ADO Den Haag posted a message of gratitude to their thoughtful fans on their Facebook page after the game.
"Our mailbox is filled with compliments and thank you for fans of ADO Den Haag. Of course we'd pass!" the post read.
"We also got some pictures inside of children who, at the invitation of Feyenoord Rotterdam (wtih compliments), were in the box."
The post was accompanied by the hashtag #YNWA, an abbreviation for You'll Never Walk Alone.
Den Haag lost the game 3-1, but won the hearts of the wider sporting community with their show of kindness.
While teddy bear tosses are a common charity action in North America, particularly during ice hockey games, Ado Den Haag may now have started the trend in European soccer.
You can share this story on social media: