Belarus official to give opening ceremony flag to Russian Paralympians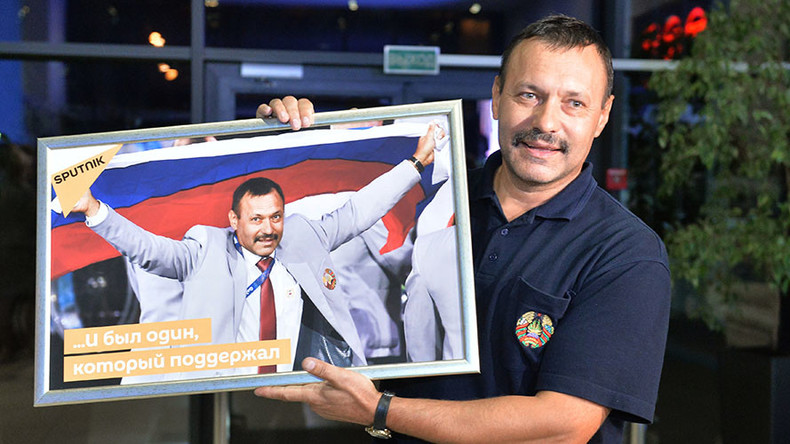 Belarusian Sport and Tourism Ministry member Andrey Fomochkin has said he intends to give the Russian flag he controversially unveiled at the opening ceremony of the Rio 2016 Paralympics to Russian athletes.
Fomochkin also expressed hope that the flag would become a unique mascot for the Paralympians.
During the opening ceremony in Rio's Maracana stadium on Wednesday, the official carried a Russian flag behind the Belarus delegation of athletes and representatives.
He said the act was planned in advance and that he took two flags to the ceremony, one of which was confiscated, but the other – which he unfolded during his demonstration – he managed to take home.
"A few Western media outlets said that we sullied a beautiful ceremony, but I believe that we spiced it up. The fans in the stands reacted to our action as usual, and booed and whistled," Fomochkin said.
He later announced that he doesn't regret his demonstration, and also refused to call himself a hero.
"The heroes in this situation are our sportsmen, who despite everything, decided to support our friends, and the Paralympians who every day conquer their ailments to prove that the impossible is possible," he said.
But despite Fomochkin's modesty, Communist Party of the Russian Federation MP Sergey Obukhov has suggested that he be awarded The Order of Friendship of the Russian Federation in recognition of his actions.
"Without doubt he deserves the Russian Federation award of The Order of Friendship, for exceptional efforts in strengthening the friendship and understanding between our nations," said the official.
The International Paralympic Committee (IPC) took a contrasting view, earlier announcing that similar action will be viewed as a political protest and revoking Fomochkin's accreditation for the Games.
READ MORE: IPC revokes Paralympic accreditation of Belarus official who carried Russian flag

Fomochkin has been widely celebrated in Russia, backed by notable officials such as Foreign Ministry spokeswoman Maria Zakharova.
The Russian Paralympians have thanked the Belarusians for the show of solidarity and a tweet appearing on Russia's official Twitter feed read: "Our hero today - Andrey Fomochkin from #Belarus Paralympic team. Our heroes forever."