Gennady Golovkin dominates Kell Brook to retain titles & unbeaten record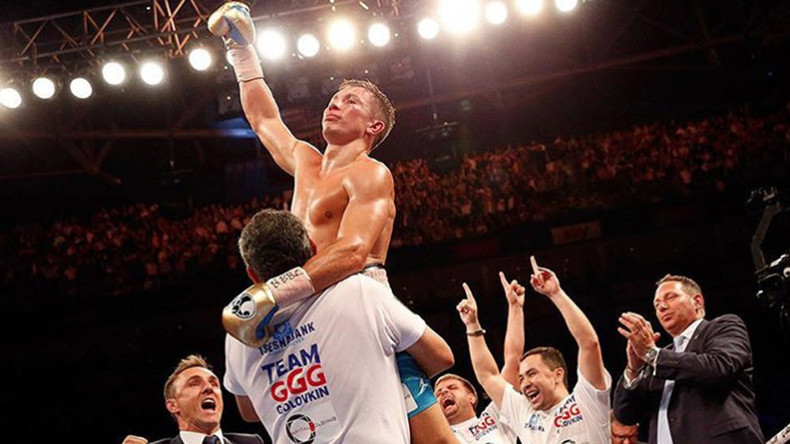 Monstrous middleweight champion Gennady "Triple G" Golovkin stopped Sheffield's Kell Brook in the fifth round at London's O2 Arena on Saturday to defend his world titles and unbeaten record with a powerful performance.
Brook had jumped up two weight classes from welterweight, where he held the IBF world title, to face Golovkin for his WBC, IBF, and IBO middleweight world championships.
Golovkin dominated the opening exchanges, backing Brook onto the ropes with a series of vicious shots that caused damage under the challenger's right eye. The British boxer survived the onslaught, however and landed a sweet straight left that visibly rattled Golovkin.
Golovkin kept up the pressure in the second, refusing to allow Brook to settle, but a superb uppercut stunned GGG and the Sheffield man ended the round on top.
Clearly stung by Brook's impudence, Golovkin stormed out of the blocks in the third, unleashing a string of body shots that seemed to take the wind out of his opponent.
To his credit, Brook battled back and caught Golovkin with some quick sharp shots from unorthodox angles. The Kazakh was clearly frustrated and just missed with a punch right at the bell.
Brook tried to take the fight to Golovkin in the fourth, but the 34-year-old's superior strength was beginning to tell, and he hit back with some ferocious shots.
The fifth round continued in the same vein, with Golovkin pushing Brook onto the ropes with a series of punishing left hooks.
Brook's face started to show some serious signs of damage, with TV pundits speculating whether he had suffered a broken eye-socket.
Golovkin continued to pour forward and, with Brook looking increasingly weary, his trainer Dominic Ingle eventually caught the referee's attention by waving the towel to save his man from further punishment.
Golovkin paid tribute to Brook after the fight for his bravery in trying to bridge the size difference between the two fighters.
"I knew that Kell was a very good fighter, but he's not a middleweight," said Golovkin.
"I respect him, because he is very good, but he's not so strong. He didn't hurt me at all. There were a lot of punches, but I didn't feel them. I respect Kell. And thanks to his corner.
"I'm a boxer. So now I want a unification fight. I would absolutely come back to the UK to fight, and I would like to fight Billy-Joe Saunders for his belt. But I am open to everybody," the victor said.
Brook appeared to be devastated by the loss of his own unbeaten record and expressed unhappiness with his mentor's decision to pull him out of the fight.
"He can obviously punch, but I expected him to be a bigger puncher," said Brook.
"In the second round he broke my eye-socket, but I was seeing three or four of him so it became very difficult.
"I was settling into it and throwing some good punches, but when you're seeing three or four, it is hard.
"Believe me, I hurt him. When you're in a fight I see every moment, and I saw his legs buckle a couple of times.
"But I hurt him. I take nothing away from him because he's a scary champion, but I would like to fight him again. My eye stopped me coming forward.
"I am a warrior and I wanted to carry on. You would have to kill me to take me out.
"I was starting to get into it, but we knew how hard the first few rounds were going to be. So you will have to talk to my coach to understand that."
A post-fight scan confirmed Brook's fears, and he will undergo an operation to repair the damaged eye socket on Monday.