CM Punk confident ahead of MMA debut at UFC 203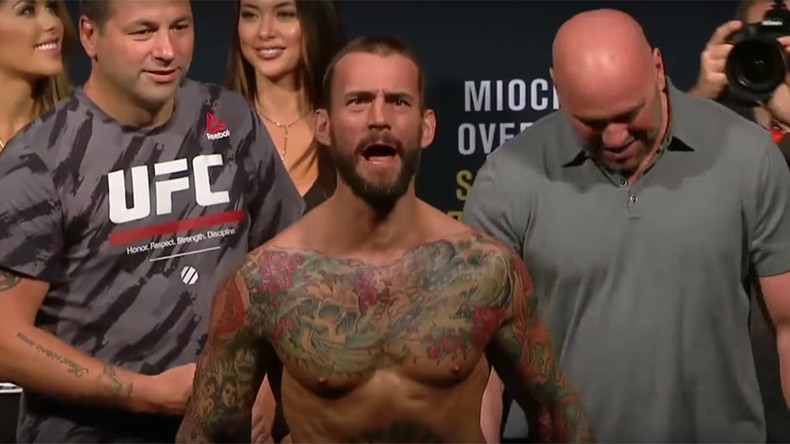 Retired professional wrestler CM Punk is full of confidence ahead of his eagerly awaited MMA debut against Mickey Gall in a welterweight bout at UFC 203 in Cleveland on Saturday night.
The former WWE star has been heavily criticized since signing with the UFC, with many people questioning whether Punk has the necessary skills to be a success.
Despite the negativity, Punk says he's looking forward to stepping into the Octagon against Gall and is determined to prove the doubters wrong.
"People either love me or hate me already – I'm not trying to talk anybody into the building on this one," said Punk.
"The allure is just the fact that it's happening. The story writes itself. It's not a fabricated thing where I need to create some drama between Mickey and me. We're gonna fight. That's the beauty of it," he explained.
Punk was widely recognized as one the finest exponents of promotional work during his time with the WWE, but he's avoided becoming embroiled in any Conor McGregor style trash-talking in the run-up to the fight.
His opponent has won both his previous professional MMA bouts by submission, but Punk believes he will emerge victorious.
"I see my hand getting raised," Punk said. "I'm not really one for making predictions.
"I'm not sure if Conor's hat would fit my head. I'm not sure if he's got a large one or a small one.
"I'm not trying to wear Conor's hat, I'm not trying to wear anybody else's hat. I'm just trying to be me, do my thing.
"I definitely see myself winning. If I had to pick I'd say TKO."
Gall, who defeated Mike Jackson in 45 seconds in his UFC debut in February to earn the right to fight Punk, has also steered away from bad-mouthing his opponent and is simply focused on retaining his unbeaten record.
"I see a lot of people that treat Punk like a joke, but I'm not making that mistake," said Gall.
"I have total respect for him and what's he accomplished. He made himself a superstar in his field and in his sport.
"I respect his talent and his greatness, but now, this is a different world. There's no way this guy beats me - I'll beat him 100 percent. I move differently than him.
"I'm very confident going into this fight. Not too confident, and I'm training hard as heck.
"It's for real. It's ballsy to come in and fight at this level – it's ballsy to fight me. I absolutely respect it, but it's a different world," he went on to say.
Elsewhere on the card, UFC 203's headline fight sees heavyweight champion Stipe Miocic defending his belt against Alistair Overeem.
Miocic claimed the title with a sensational first-round knockout of Fabricio Werdum at UFC 198 in May, but Overeem represents a major challenge to his hopes of retaining the belt.
The Dutch fighter seemed destined for greatness after the one-sided beating he handed to Brock Lesnar in his debut at UFC 141 in 2011, but three defeats in his next four contests put Overeem on the back foot.
However, the 36-year-old has bounced back to win his next four fights and earn a title shot.
"This is the last big one – I've dedicated my life to achieve this goal," he said.
"It's been nonstop training, eating, sleeping, getting better as a mixed martial artist, getting better as a fighter.
"It's taken years to get to this point, and I'm pleased with the result. I'm very pleased with what I've done in this training camp and the team is fired up.
"I have the perfect team around me now and I've given my life to this, and I expect to see the reward for all of that.
"I am very confident that you will see that in this fight," he predicted.
UFC 203 Main Card
Stipe Miocic (15-2-0) vs Alistair Overeem (41-14-0)
Fabricio Werdum (20-6-1) vs Travis Browne (18-4-1)
Mickey Gall (2-0-0) vs CM Punk (0-0-0)
Jimmie Rivera (19-1-0) vs Urijah Faber (33-9-0)
Jessica Andrade (14-5-0) vs Joanne Calderwood (11-1-0)