'I know he will want to KO me & I'm ready' - boxing champ Troyanovsky on world title defense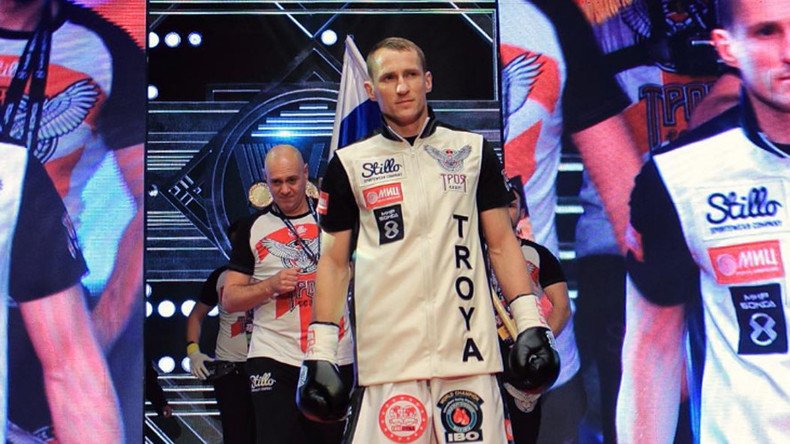 Undefeated world boxing champion Eduard "Troya" Troyanovsky allowed fans a glimpse of his final preparations for his latest title defense against Japan's Keita Obara. on Friday, September 9, at an open training session in Moscow.
Troyanovsky won the IBF and IBO world light welterweight championships against Argentina's Cesar Rene Cuenca by a sixth-round stoppage last November. He beat Cuenca again in a rematch in April to take his perfect professional record to 24 wins and no losses with 21 knockouts.
The 36-year-old will now defend his world titles against Obara at Moscow's Krylia Sovetov stadium, knowing an impressive win could catapult the Omsk-born fighter into the mainstream, with lucrative fights being touted in the US and UK.
"Troya" told RT Sport that he is ready for anything his opponent can throw at him come fight night.
RT: How have your preparations been going for this fight – how do you feel for this fight?
Eduard Troyanovsky: I've been training partly in Spain and the final preparations in Russia and the Czech Republic, I had all my sparring in Russia. The main part of my training has been here. Everything has gone well, I'm in good shape. There are only two days left to wait until the fight to make the weight.
RT: How much do you know about your opponent Keita Obara?
ET: I have only seen one fight of his. I didn't really study it, I just watched his fight before last. What can I say? He's a good, worthy challenger, his style of fighting is about the same as mine. Technically we box about the same. But who turns out to be stronger, trickier, slicker, will win the fight. I can't say that he is somehow weak or whatever, I say he is a worthy contender. I will show my boxing. If it turns out a punch-up I will fight and I will adjust to boxing the whole 12 rounds.
RT: Did you prepare specifically for him? Obara has won a lot of fights by knockout, do you think his power will create a problem for you?
ET: Yes, I prepared for him. My sparring partners have been bigger than me. We selected similar opponents that fight in the same style as him. I will say this: I have had to fight knockout artists before. And I will expect it from him. I know that he is considered a KO artist, that won't be a secret for me. I know that he will want to knock me out and I am ready for it. The main thing is to concentrate and not miss his punches.
RT: It's been almost a year since you beat Cesar Rene Cuenca and claimed his IBF world title. Describe what you felt in that moment and how has your life changed since that fight?
ET: I felt a lot of joy of course most of all when I beat Cuenca, more so because I thought the fight would be a lot harder for me and it turned out it was a lot easier than I thought. I got a little bit frustrated so to speak in the second fight when he refused to continue and we didn't finish the fight because it was a rematch and a chance to put the record straight.
How my life has changed since then, I have a great responsibility not only for myself but for my family, for Russia and for a lot of different people because I am the champion and I need to defend that honor. A lot of guys, for example those like Obara, want to take my title and belt away from me. My goal is to defend that. A lot of people think you become champion and that's it. No. You have to train more in order to maintain it. It's a very big responsibility.
RT: What plans do you have for the future, to stay here in Russia or go to USA and try your chances there?
ET: I don't like to get ahead of myself but if I win this fight, then possibly in the future my promoter and my team will hold talks with the other belt holders who want to have a unification fight with me. So if everything works out well, we will talk. That is the prospective plan. Generally after the fight I just want to relax with my family, because I've worked really hard for this fight. I want to share some time with my family and friends, and also in the long run I would like to go to London, because I have an open visa to travel there. I know a couple of people from the boxing world in England.
RT: Do you pay close attention to potential opponents in England and the US?
ET: Potential opponents for the future are those who are world champions, such as [WBO and WBC champion] Terence Crawford and [WBA champion] Ricky Burns. There can be a lot of potential opponents, because there may be mandatory challengers, mandatory defenses, voluntary defenses. But those who are the current world champions are also potential opponents. It's possible that in the near future, like I said, we will meet with one of those. It all depends on the fact that I need to win on September 9 and then after that we can try and arrange something with them!
RT: Do you have a message to your fans around the world?
It's really nice to have fans not just here in Russia but, as I gather, in England too and a lot of other places. In actual fact it is a big thing when you have fans who are interested in your craft, who like you as an athlete, as a boxer, as a person. And it imposes a certain responsibility on you and makes you want to train even harder so that you don't let your fans down. So I would like to say thank you for watching and supporting me because for me it's really fantastic.
Standing in Troyanovsky's way is Japan's Keita Obara. Although largely an unknown in the boxing world, Obara does boast a fearsome punch. The former Japanese champion has ended 15 of his 16 wins by KO and has only one loss on his pro ledger.
He told RT Sport that he is determined to reach the highest level in his craft.
RT: It is your first time in Russia, what impressions do you have of the country so far?
Keita Obara: The city is beautiful, the people are very nice and the kasha is tasty!
RT: We know you have won a lot of fights by knockout. Do you think your strength will be your main strength in the fight?
KO: Yes, it's just by knockout that I want to win.
RT: The fight will be the biggest in your career. Do you think it will give you a chance to announce yourself on the top level?
KO: The more we will be with the strongest, the closer you will be to victory.
RT: Another Japanese boxer, Naoya Inoue, defended his world title last Saturday. Is that the level you want to get to in your career?
KO: Well, yes, of course and after I win I will bring myself closer to that level. I know Inoue because we studied at the same university. He is a very good champion.
Both fighters possess devastating power and the Friday night fight will make for compelling viewing with a win for Troyanovsky surely provide a pathway to unifying world titles in a division teeming with talent.
You can share this story on social media: