The Messi-ah: Crazed fan kisses Lionel's feet on his Argentina return from retirement (VIDEO)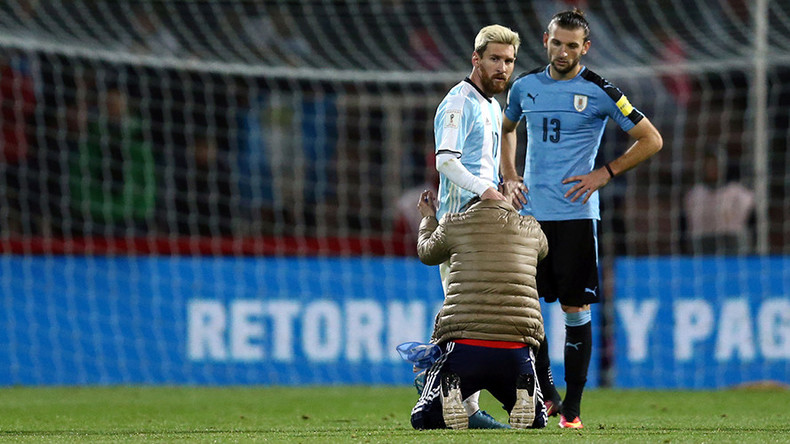 A fan managed to skip past stewards and make it onto the pitch during the dying minutes of Argentina's 1-0 win over Uruguay where he ran up to Messi before kneeling down and kissing his idol's feet.
The Barcelona star seemed somewhat taken aback at first before embracing his overwhelmed fan in an awkward fashion. Despite failing to prevent him from entering the field, it did not take long for security to catch up the young lad and he was quickly escorted away.
An embarrassed looking Messi then proceeded to try and once again focus on the game as Uruguay defender Gaston Silva instructed the referee to add more time on to the end of the World Cup qualifier due to the incident.
Messi had announced his retirement from the international stage after Argentina's penalty shootout loss to Chile in the Copa American final back in June, where Messi himself missed a penalty, however, the 29-year-old returned to the Argentina fold in style on September 2 as he scored the only goal in his team's win over Uruguay.
READ MORE: Messi 'retires' from Argentina team after heart-wrenching loss to Chile
His two month retirement caused a huge outpour of emotion in his homeland as fans marched on the street in an attempt to convince their hero to pull on the white and blue jersey once again.
Despite constant criticism from Argentina legend Diego Maradona, Messi performed a dramatic u-turn and decided to scrap his retirement plans.