Olympic wrestler refuses to accept deceased competitor's medal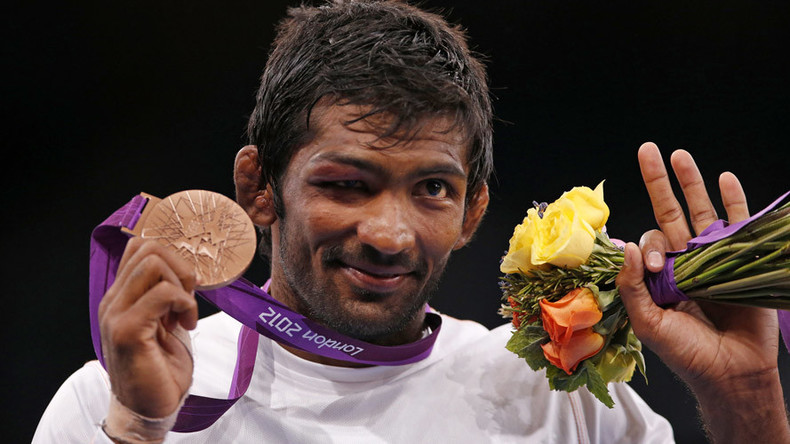 An Indian wrestler has refused a medal upgrade from the 2012 London Olympics after a Russian competitor's dope test turned out positive following his death in a car crash. The athlete said the family of the Russian wrestler should keep the silver medal.
Yogeshwar Dutt from Haryana, India, competed against Russia's Besik Kudukhov in the men's 60kg freestyle category at the 2012 Games. The Russian wrestler received a silver medal, while Dutt claimed the bronze.
Although Kudukhov – a four-time world champion and two-time Olympic medalist – died in a car crash in 2013, his samples were recently re-tested and were found to have contained banned substances. That finding has resulted in the International Olympic Committee (IOC) stripping him of his medal.
The re-test was part of standard practice by the IOC, which stores samples for up to 10 years to allow for the use of advanced testing methods. A total of 98 athletes from the London and Beijing Olympics have so far tested positive for doping, out of the 1,000 samples re-tested.
On Monday, Dutt tweeted that he "got to know this morning that my bronze medal is getting upgraded to silver medal. I dedicate this medal to all my countrymen also."
However, a more recent tweet from Thursday says that he wishes for Kudukhov's family to keep the silver medal, saying it will "keep their honor intact."
अगर हो सके तो ये मेडल उन्ही के पास रहने दिया जाए। उनके परिवार के लिए भी सम्मानपूर्ण होगा। मेरे लिए मानवीय संवेदना सर्वोपरि है।

— Yogeshwar Dutt (@DuttYogi) 31 августа 2016 г.
"For me humanity is above everything else," the Indian sportsman wrote.
Meanwhile, four athletes – including three Russians – from the 2008 Beijing Olympics lost their medals on Wednesday, for the same reason. Those athletes include runner Tatyana Firova, weightlifter Marina Shainova, weightlifter Nadezhda Evstyukhina, and Armenian weightlifter Tigram Martirosyan.
Two other athletes who did not win medals in the Olympics also had their participation in the Beijing Games disqualified on Wednesday.
Russia's track and field team was banned from the Rio Olympics over allegations of state-sponsored doping. Investigations are continuing into wider doping, potentially involving dozens of other Summer and Winter Games.