Controversy as Vogue Brazil photoshops disabilities onto models for Paralympic shoot (PHOTO)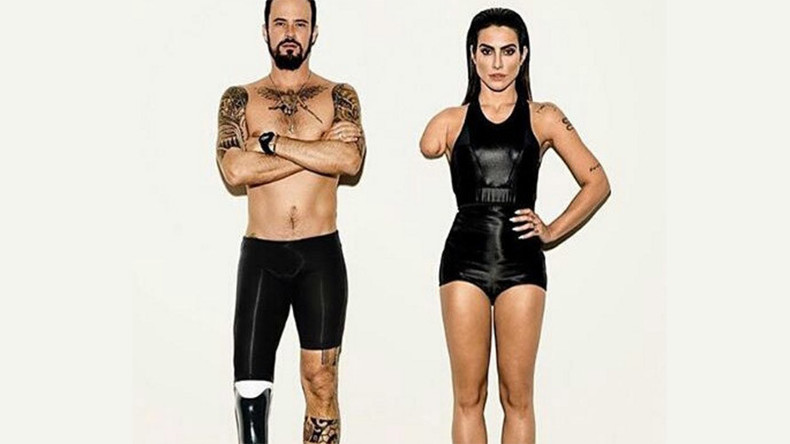 Vogue Brazil has raised eyebrows by choosing to alter images of able-bodied actors in a Paralympic promo shoot, rather than include the athletes themselves, or disabled models.
READ MORE: 'Ban, ban, ban!': Paralympians fall victim to US anti-Russian propaganda
Ahead of September's Paralympic Games, the Brazilian edition of the fashion magazine sought to highlight the event with the campaign "We Are All Paralympians."
However, management at the publication appear to have scored a bit of an own goal, with people questioning why the athletes with actual disabilities were not noticeably involved in the modeling shoot.
The magazine's catchline accompanies pictures of Brazilian celebrities Paulo Vilhena and Cleo Pires, who appear to have had limbs or parts of limbs removed.
In one image circulated by the magazine across social media, Pires has part of her lower arm missing, while Vilhena is photoshopped with an artificial leg.
READ MORE: Rio Paralympics to welcome refugee team
The images have not gone down well online, with many people angered at the apparent snub of disabled athletes and models.
In an Instagram post Pires said her photo was inspired by table tennis star Bruna Alexandre and had the backing of all those involved in the Games.
"As ambassador of the Brazilian Paralympic Committee I feel honored to represent Bruninha this campaign endorsed by the Paralympic Committee and the Brazilian Paralympic athletes," it read.
READ MORE: Removing a strong rival? Russia shocked by 'cynical & political' CAS ruling on Paralympic team ban