IOC launches disciplinary probe into US swimmers' fake 'gunpoint robbery' story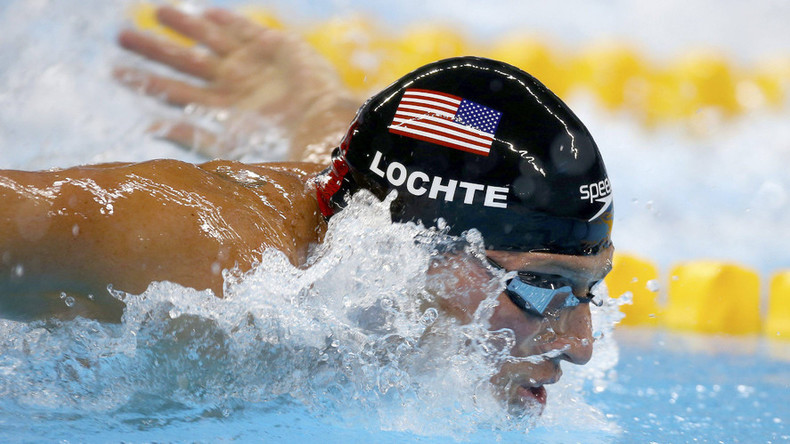 A disciplinary commission has been set up by the International Olympic Committee (IOC), after a group of American swimmers, led by champion Ryan Lochte, was exposed as having fabricated a report about being robbed at gunpoint in Rio de Janeiro.
"There will be an inquiry into the four swimmers...we will see if there is material for a sanction," an IOC source told AFP.
According to another IOC official who spoke with Reuters, Lochte will now face an investigation after lying about an alleged armed robbery. Two of the four athletes, Ryan Lochte and Jimmy Feigen, on Sunday, claimed the group was robbed of $400 at the gas station after their taxi was stopped by armed gunmen posing as a policemen.
An investigation into the matter, however, found inconsistencies in their accounts, with CCTV from the scene proving the story was false. The footage showed swimmers vandalizing the gas station and clashing with staff.
Following the behavior for which Lochte somewhat apologized in a Twitter post on Friday, reports surfaced that the four athletes might have been suspended by USA Swimming and the US Olympic Committee (USOC) for running such a hoax at the international competition.
The USOC spokesman Mark Jones however denied the reports as "absolutely not true," as the United States Olympic Committee apologized for the behavior of four US swimmers.
"The behavior of these athletes is not acceptable, nor does it represent the values of Team USA or the conduct of the vast majority of its members. We will further review the matter, and any potential consequences for the athletes, when we return to the United States," USOC said in a statement.
Lochte flew back to the US on Monday. Feigen is still in Brazil but was cleared to leave Rio after agreeing to donate almost $11,000 to a local charity, as ordered by a Rio de Janeiro judge. Brazilian prosecutors said they would still seek a heavier fine for US Olympic gold medalist for giving false testimony to police, but would not prevent Feigen from flying out of Brazil.
The other two athletes, Gunnar Bentz and Jack Conger, were initially pulled off their flight on Thursday night but were consequently allowed to leave, as the two continue to deny any involvement in the false robbery claim.
READ MORE: US swimmers 'fabricated' robbery story, damaged gas station – Brazilian police
Thirty-two-year-old star swimmer, and a 12-time Olympic medalist, Ryan Lochte took on Twitter on Friday to say he "should have been much more responsible in how I handled myself." In his statement Lochte noted that he should have been "more careful and candid in how I described the events."
The hoax that sparked the entire embarrassing fiasco for the US swimming team was based on the initial Lochte account where he claimed that on Sunday morning he and his teammates were robbed at gunpoint by men who appeared to be police officers when the four were returning home from a party. Lochte noted that a gun was held to his head.
But Rio's authorities who immediately began to investigate the report discovered citing surveillance video and witness accounts, that the incident happened after the swimmers vandalized a bathroom at a gas station bathroom. The gun mentioned in the incident was pulled by one of the security guards who would not let athletes leave until they paid for the damage.