Elbowed? US runners allowed another go at relay qualifier after dropping baton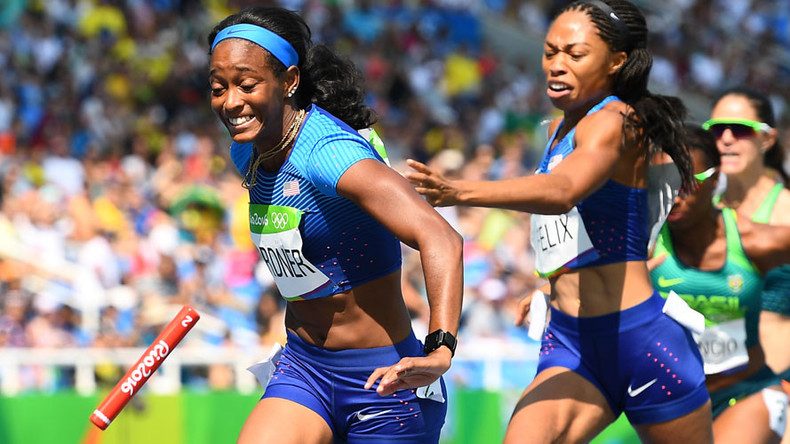 American women's 4x100 relay team at Rio Olympics has been allowed to re-run its qualification heat – in solitude – after one of the runners dropped her baton. The team argued in an appeal she was elbowed by a Brazilian athlete.
The relay qualifier took place Thursday. Initially, it yielded to the following results: Jamaica 41.79, UK 41.93, Ukraine 42.49, Canada and China 42.70 apiece.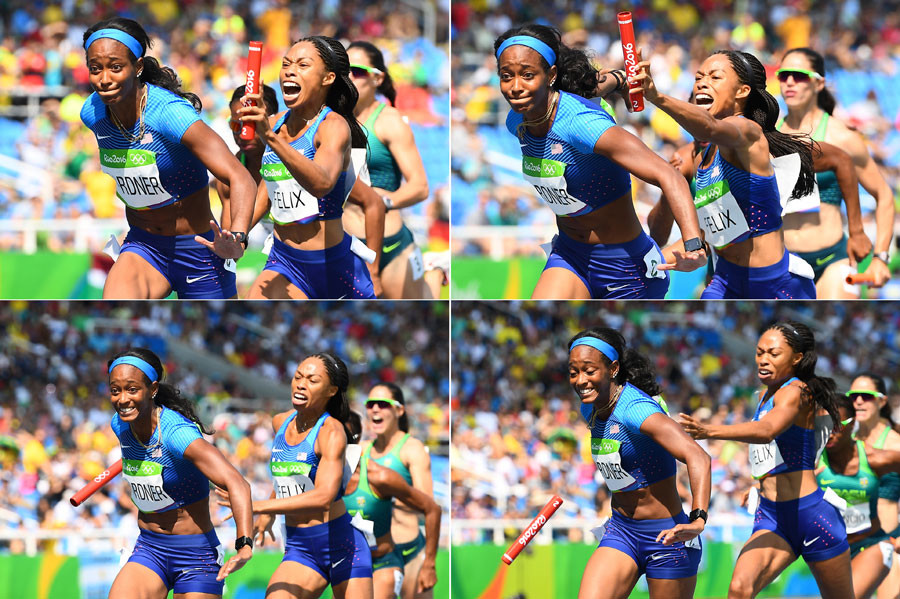 What happened was this: the video posted on YouTube shows US' Allyson Felix bumping into the hand of a Brazilian runner in an adjacent lane. Felix falls out of step, and then drops the baton, failing to pass it on. Instead of darting to pick it, Felix runs on screaming in frustration.
In the end, the American runners finished the race 20 seconds later than the others.
An impeded handover was the last thing Felix needed, because the 4x100 relay is her last chance to win a gold medal in Rio, after losing the 400-meter race to a Bahamian runner.
"It just knocked me off," Felix told NBC later. "I mean, I was tripping, but I don't know, I was still trying to get it off, but I just...I couldn't."
The video shows the Brazilian runner, Kauiza Venancio, had her back turned on the American athlete, and she could not possibly have seen Felix running into her from behind. Yet the blame for the collision was placed with Venancio. The American team filed an appeal, claiming Felix had been elbowed while handling over the baton.
The appeal was granted, with the local team disqualified over causing an obstruction. Rule 163.2b , intentional obstructing, was applied.
The rule says that in case of disqualification of a team, the race should "be re-held" (for all teams) excluding any disqualified athlete, "or allow any affected athlete to compete in a subsequent round of the event."
However, the US team was allowed to run the heat once again, but all alone. To get into the finals, they had had to run faster than Chinese and Canadian time of 42.70.
And so they did, making it in 41.77, the fastest of any of the 16 women's teams that ran on Thursday.
The US re-run also screwed the Chinese, who lost to the Canadians by thousandths of a second. Initially, there was supposed to be a run-off between China and Canada, but the IAAF placed Canada first by examining the qualifying time in minutiae.
China's appeal against the US team's reinstatement was denied.
The women's 4x100 relay final is to be held on Friday, July 19.