Celtic fans defy UEFA ban to fly sea of Palestine flags in match against Israelis (PHOTOS, VIDEO)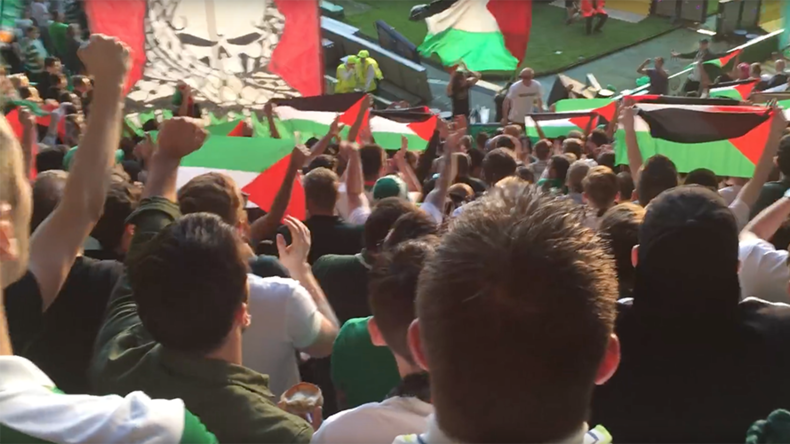 The Celtic football team faces a penalty from UEFA after the Scottish club's fans waved Palestinian flags during a Champions League playoff match against Israel's Hapoel Be'er Sheva. The not-so-warm welcome was followed by a defeat for Israel: Celtic FC won the match 5-2.
The Union of European Football Associations (UEFA) forbids political statement displays at football matches. Prior to showdown, fans had been warned that any political protest inside the stadium would result in repercussions from the governing authority, which could lead to fines or even Celtic Park stadium closure.
Scottish police urged fans to not bring Palestinian flags, threatening them with arrest, the Daily Record reported. Under Scottish law anyone found guilty of inciting "hatred against a group of persons based on their membership (or presumed membership) of a group," could be detained.
But despite the UEFA warning, the Scottish fans went on to display Palestinian flags at the match, handed out prior to the game by "Palestine Alliance" activists.
The mass action to show support for the Palestinian cause was organized via a Facebook group titled "Fly the flag for Palestine, for Celtic, for Justice", which according to the group registered over 1,200 in attendance.
In organizing the event the activists called on Celtic fans to support the Boycott, Divestment and Sanctions (BDS) movement against Israel, and what the group called "Israeli apartheid, settler colonialism, and countless massacres of the Palestinian people."
The activists also urged UEFA to join their cause and not support Israel and its policies.
"When someone is representing Israeli state institutions it is sadly never merely a game; football, UEFA, and Celtic FC are being used to whitewash Israel's true nature and give this rogue state an air of normality and acceptance it should not and cannot enjoy until it's impunity ends and it is answerable to international law and faces sanctions for the countless UN resolutions it had breached," the group said on Facebook.
UEFA fined Celtic two years ago when fans waved Palestinian flags at a game against Iceland's KR Reykjavik. UEFA's Control, Ethics and Disciplinary Committee took action based on Article 16 (2) (e), which forbids political, ideological and religious messages at sports events.
You can share this story on social media: