Russia's Vlasov wins Olympic gold in Greco-Roman wrestling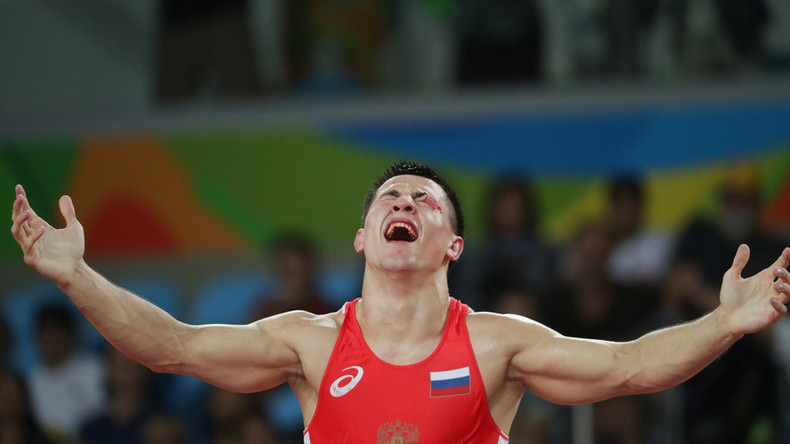 Russian wrestler Roman Vlasov defeated Mark Overgaard Madsen from Denmark in the men's Greco-Roman 75 kg class 3-1, defending his Olympic title and bringing Russia its ninth gold in Rio.
The 25-year old Vlasov, who is a reigning world champion and a 2012 London Olympics champion in the 74kg division, confirmed his status is the one of the event's favorites.
South Korea's Kim Hyeon-Woo and Iranian Saeid Abdevali beat their respective opponents from Croatia and Hungary in matches for bronze.
Nenad Lalović, president of United World Wrestling, the sport's international governing body, praised the Russian athlete, saying that Vlasov is capable of repeating his tremendous success at the third Olympics in a row.
"Roma was fighting in such a way, that his rival, Madsen, simply had no chances," Lalović said.
"Vlasov claimed a brilliant victory, he can become a three-time Olympic champion and tie with Karelin," the president added, referring to the retired Russian wrestler Aleksandr Karelin, who won gold at 1988 Seoul, 1992 Barcelona and 1996 Atlanta Olympics.
Mikhail Mamiashvili, the president of Russia's Wrestling Federation (WFR) and UWW's vice president, described Vlasov as a "genuine Russian guy with an iron Siberian character, good training and clear goals."
"He has the potential [to become a three-time Olympic champion]," Mamiashvili said, as cited by TASS.
Commenting on the final encounter, Vlasov expressed the hope that his hard-won medal will motivate other Russian wrestlers at Rio.
"In the middle of the fight, I woke up and understood: I need to fight till the end, nothing is finished yet. I hope my victory will boost the confidence of all Russian wrestlers," he said, as cited by R-Sport.
The ban on Russian athletes gave Vlasov an extra motivation in the competition.
"Taking into account the situation around our sport, we understood the importance of winning as many gold medals as possible," he added, calling the blanket ban on Russian weightlifters "unfair."