'Shaken up' Lochte and 3 other US Olympians 'held up at gunpoint and robbed' in Rio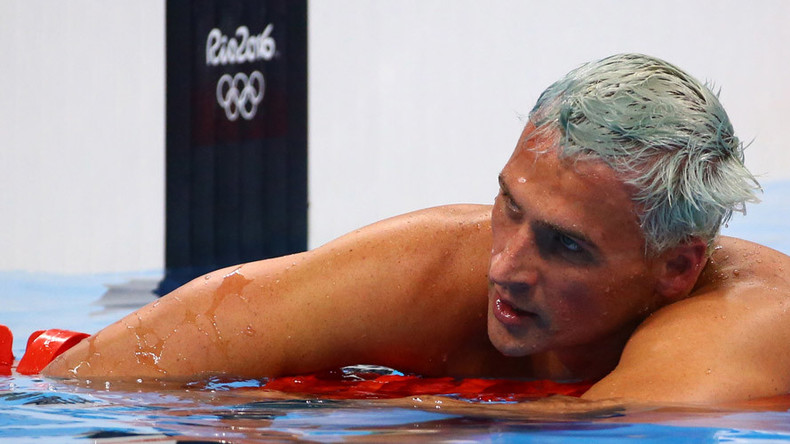 US gold medal-winning swimmer Ryan Lochte reportedly had a gun put to his head and his wallet stolen after a gang posing as police officers carjacked a taxi carrying him and three other US swimmers from a party in Rio da Janeiro.
Lochte, 32, who won his sixth Olympic gold in the 4×200m freestyle at the Games, was returning from a party in the French Olympic reception hall on Sunday morning, according to the US Olympic Committee (USOC), with three other team members, Gunnar Bentz, Jack Conger and Jimmy Feigen, when the incident occurred.
"We got pulled over, in the taxi, and these guys came out with a badge, a police badge, no lights, no nothing just a police badge and they pulled us over," Lochte said. "They pulled out their guns, they told the other swimmers to get down on the ground — they got down on the ground. I refused, I was like we didn't do anything wrong, so — I'm not getting down on the ground," Lochte, who has completed his swimming slate, told NBC.
"And then the guy pulled out his gun, he cocked it, put it to my forehead and he said, get down and I put my hands up, I was like 'whatever.' He took our money, he took my wallet — he left my cell phone, he left my credentials."
Lochte's mother said that the athletes were shocked but unhurt following the mugging.
"I think they're all shaken up. There were a few of them," Ileana Lochte told USA Today.
Mark Adams of IOC, latest on Lochte robbery- "All I can tell you is that I messaged USOC and they messaged Lochte and said it was not true."

— Greg Wyshynski (@wyshynski) August 14, 2016
The already-murky incident – no one appears to have been arrested overnight – grew rich with rumor, after the International Olympic Committee and USOC initially claimed the story was "absolutely not true," only to backtrack after it was confirmed by Lochte and his mother.
There are over 11,000 athletes in the Brazilian city for the Olympics, without counting officials, journalists and those Paralympians who have already arrived ahead of their Games, due to begin later this month, and stories of robbery attempts have abounded.
The most unusual belongs to the Chinese hurdler Shi Dongpeng, who was vomited on in his hotel by a supposed drunk as a distraction, while a photographer accompanying him had his equipment stolen.
Athletes from several teams have also complained that there has been theft inside the Olympic village – with at least one case being blamed on a rogue Olympic worker – as well as a robbery at Russia's reception center, from which several laptops were stolen.