Hope Solo calls victorious Sweden 'bunch of cowards' after US ousted from Olympic soccer tournament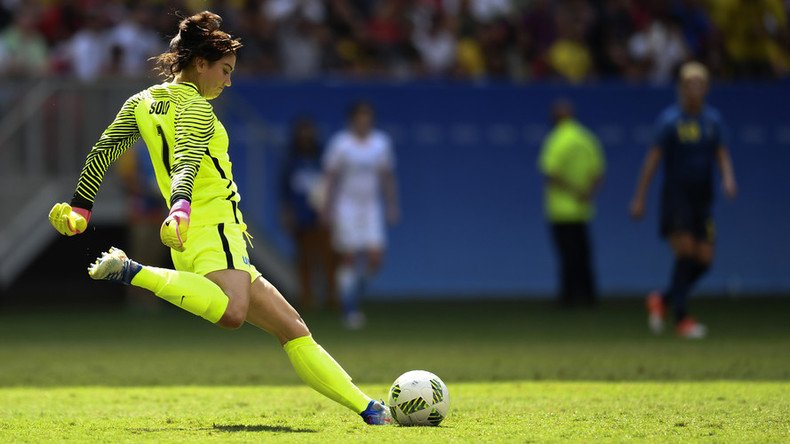 USA goalkeeper Hope Solo called the Swedish women's team "a bunch of cowards" after they unceremoniously dumped the US out of the Olympic soccer tournament in Rio de Janeiro after a penalty shootout. The US had been the defending champions.
The match finished 1-1 after extra time, which sent the game to penalties. With Sweden needing just to score one spot kick to win the match, Solo caused controversy by saying she needed to change her gloves in an apparent attempt to delay the game.
Sweden's Lisa Dahlkvist was left waiting for a few minutes, but eventually dispatched her penalty to knockout the much fancied Americans.
After the match finished, Solo was in no mood to congratulate the Swedes on their upset victory, which advanced them to the quarter-finals.
"I also think we played a bunch of cowards. The best team did not win today, I strongly, firmly believe that," Solo said.
The goalkeeper of the US women's national team said she was disappointed by the Swedes' style of play.
"They didn't want to open play. They didn't want to pass the ball. They didn't want to play great soccer. It was a combative game, a physical game... And they tried to counter with longballs," she complained.
Sweden now move through to the semi-finals, as the US women's national team failed in their bid to win their fourth successive Olympic gold.
"I don't think they're going to make it far in the tournament. I think it was very cowardly. But they won, they moving on and we're going home," Solo concluded.
The International Olympic Committee (IOC) voiced its disappointment over Solo's comments but added that no disciplinary action would follow, Reuters reports.
"If those were the comments, it is disappointing. We can only keep talking about how athletes treat each other," IOC spokesperson Mark Adams was quoted as saying.
The representative added that the body "would not stop" athletes from voicing their opinion and that the comment might have slipped through "in the heat of the moment."
The online community has slammed the goalkeeper for her lack of sportsmanship.
Young players, please look at Hope Solo's comments as an example of what NOT to say after a loss.

— Samantha Williams (@ULCoachSam) August 13, 2016
Dear Sweden: Hope Solo does not speak for all Americans. Maybe any Americans, except herself. Congratulations on your win. #Olympics2016

— HimForHer (@ThomboyD) August 12, 2016
So you're saying Hope Solo, a woman with a history of drug/alcohol abuse and propensity for violence ISN'T classy in a loss!? I am SHOCKED!

— Brenden Dilley (@Hublife) August 12, 2016
The 35-year-old, who is facing domestic abuse charges at home for allegedly beating up her half-sister and nephew, has had a colorful Olympics in Brazil.
She has not endeared herself to the Brazilian people by publishing a series of photos on Twitter mocking the country's battle with the Zika virus. Brazilian fans taunted her with chants of "Zika" throughout the tournament.
You can share this story on social media: