Turkey issues arrest warrant for ex-football star Hakan Sukur over failed coup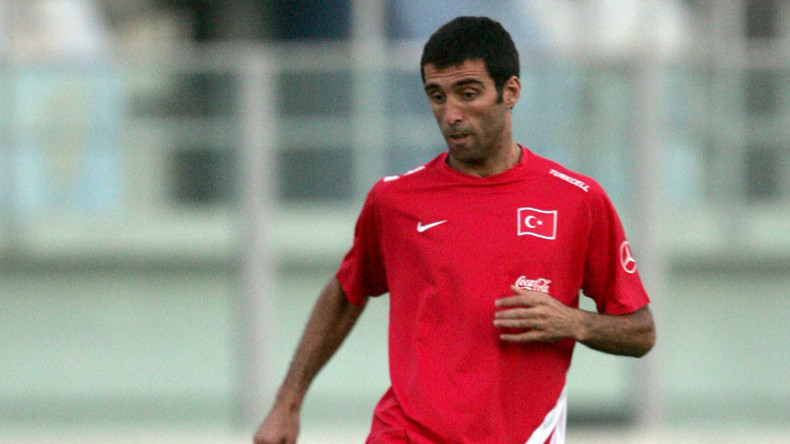 Former international football striker Sukur is wanted for questioning by Turkish authorities as part of an ongoing investigation into the country's failed coup
Sukur, who played for clubs including Inter Milan, Galatasaray and Blackburn Rovers, is accused of involvement in the failed July 15 coup that attempted to unseat President Recep Tayyip Erdogan.
READ MORE: Gunfire, military helicopters in Ankara, PM says 'coup attempt' by part of army underway
The state-run Anadolu news agency said the warrant accuses the 44-year-old of "being a member of an armed terror group."
Police raided Sukur's house in Istanbul and his father Sermet 's home in Sakarya. His father was not found during the search.
The failed coup, organized by the military, left 290 people dead and injured 1,440 more.
Tens of thousands of people took to the streets of numerous Turkish cities on July 16 in support of President Erdogan as the coup unfolded.
Officials accused judges and the coup plotters of being loyal to US-based cleric Fethullah Gulen, who Erdogan says wants to overthrow the government.
Sukur scored 51 goals in 112 appearances for Turkey – a national record. He helped his country finish third in the 2002 World Cup, where he scored the fastest goal in the tournament's history (10.8 seconds) against South Korea.
After retiring from football in 2007, Sukur entered politics and was elected as an MP for Erdogan's ruling Justice and Development Party (AKP).
He quit in 2013 after a corruption probe that targeted Erdogan and his allies, choosing to side with Gulen.
Sukur had voiced objections to government plans to shut down schools run by Gulen's organization, Hizmet ('Service' in Turkish).
He was accused of insulting Erdogan on Twitter in February, but denied his comments were aimed at the president.
Sukur went on trial in absentia in June, with prosecutors seeking a four-year jail term for the former footballer.
Erdogan has ordered sweeping changes to the military, civil service and education since the attempted coup, which saw rogue troops commandeer the country's airspace.
Several Turkish diplomats went on the run this week after missing a deadline to return to Ankara following the coup plot.