'Oh, Putin, stop!' Social media users mock US team's Rio 2016 uniforms which resemble Russian flag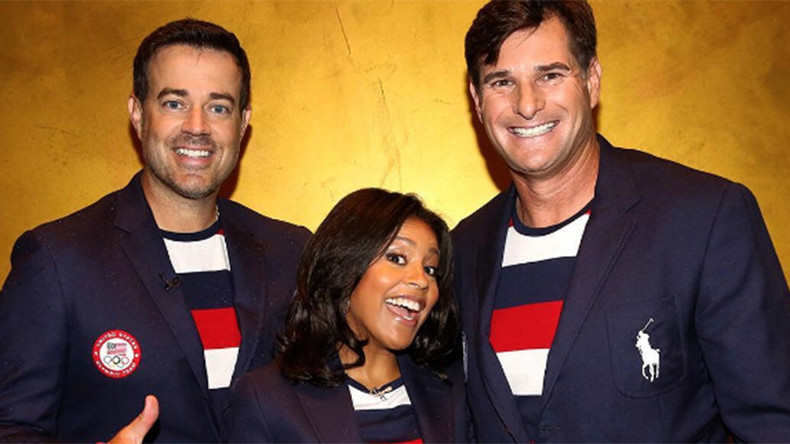 Russian hackers? The designer is a Russian spy? Putin's order? Social media are totally abuzz over Team USA's Olympic opening ceremony uniforms. Why? Because users say the white-blue-red coloring on the athletes' T-shirts looks like the Russian flag.
The uniform was developed by designer Ralph Lauren and presented on Friday morning. According to Team USA, the "uniform is fresh and sporty, with classic elements, and features an all-American palette of red, white and blue."
Lauren has been creating outfits for the US Olympic and Paralympic Teams since 2008.
Users on social media pointed out that the pattern of the T-shirt has white, blue and red bars and when the T-shirt is paired with a buttoned-up navy blazer, only three bars are seen and it is definitely a Russian flag.
Other American users suggested that it wasn't actually Lauren who made the uniform, but "sleeping agents" of the 'scary' KGB, the main security agency for the Soviet Union.
Russian users seemed to like the 'KGB story', suggesting that Lauren himself may be a KGB spy and thus develop such clothes.
Others suggested that Russian famous designer Valentin Yudashkin who has repeatedly designed the uniforms for Russian athletes at various Olympic games had a part to play.
"Yudashkin sent his spy-friend to the US," @A_Denisov wrote.
Others suggested that the Kremlin is the main culprit.
Some Americans even got upset and immediately called on the athletes to "toss out" the uniform and get rid of the white pants.
Other suggestions why the uniforms look so "Russian," is that they were sewn by Russian crafty hackers.
"Russian hackers broke [into US Olympic uniform factory]," suggested Twitter user @Like_A_ru
"Russia in the heart" teased @spleanomaniya
"This would have been the uniform for Russian Olympic team, but this belongs to US," added @aviacop.
And of course no US-Russian joke would be complete without the Russian president. Russian users mockingly wrote that it definitely was Vladimir Putin who was behind the US Team uniforms, probably referring to the Western mainstream media's trend of constantly pointing fingers at the Russian leader.
"Oh this Putin," wrote @AndrisUdo
"Oh, Putin, stop!" laughed @FradkinOleg.