Brock Lesnar beats Mark Hunt in UFC 200 return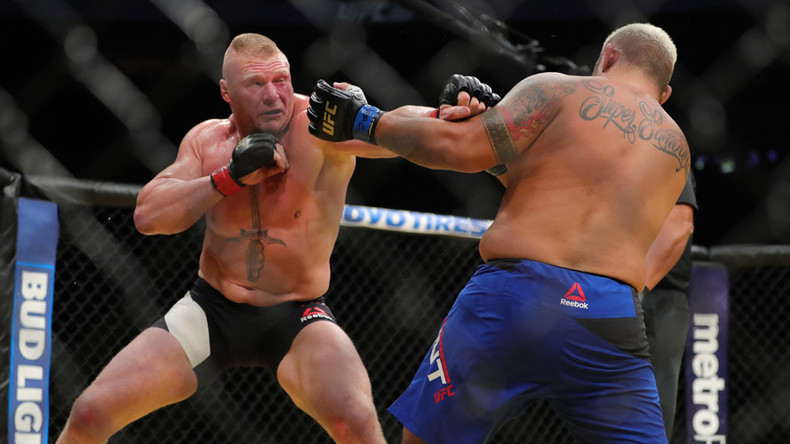 In his much-hyped return to UFC, Brock Lesnar convincingly beat Mark Hunt via unanimous decision (29-27, 29-27 and 29-27) over three rounds, ending the fight in complete control and on top of his opponent.
Before the fight the talk was about Lesnar's strong ground game versus Hunt's punching power (and Lesnar's reported inability to take a punch). The years away from the Octagon were also a giant question mark over Lesnar, although in a three-round fight fatigue was less likely to have a major impact.
After a tentative start the first round cleanly went to Lesnar, who scored two takedowns and some ground and pound at the end of the round that had Hunt in trouble.
The second round though showed the poor conditioning of both athletes, with Hunt fighting for composure and better able to defend against takedowns, while Lesnar already looked spent, although he did well to defend against Hunt's big hits.
With the fight in the balance, Lesnar went for broke in round three, scoring a takedown early and getting into mount, raining down punches on Hunt with no let-up. Hunt's strategy of staying on his feet and landing the big punch was Plan A, but he had no Plan B against Lesnar's much-vaunted ground game.
Lesnar won the round and the fight, 29-27, 29-27 and 29-27, and although he's maintained since his return was announced that he would be taking it one day at a time, it's almost certain that Lesnar will fight in the UFC again.
For a fighter returning after five years, Lesnar is still the biggest draw in the company. Lesnar has earned a reported guaranteed $2.5 million for appearing on UFC 200 (and this is before PPV sales and the additional payout attached to that), is by far the highest-paid star to ever enter the Octagon, easily smashing the $1 million purse record set by Conor McGregor for UFC 196 and his fight against Nate Diaz.
Will Lesnar be put into the title mix right away? He may have an additional bout against either Cain Velasquez or the loser of Miocic v Overeem (UFC 203) to better judge his return to UFC before giving him a genuine shot at the title.
As of now, Lesnar at UFC 205 – in New York, no less – is a real possibility.