Russian rowers banned from Rio Olympics after failed doping probe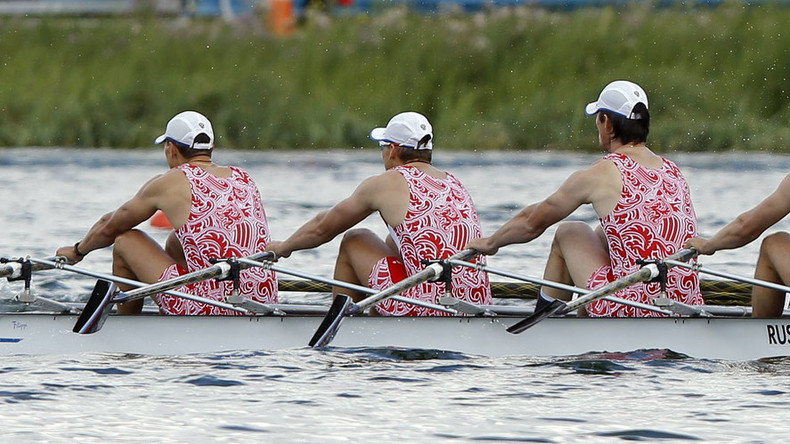 The Russian men's quadruple sculls rowing team has been disqualified from the Rio Olympics after one of its members failed a doping test in May, the World Rowing Federation, FISA, announced.
The prohibited drug Trimetazidine was found in a urine sample from rower Sergey Fedorovtsev at an out-of-competition test earlier in June.
"On 30 June 2016, the B sample was opened in the presence of the rower and the subsequent analysis confirmed the result […]," FISA said in a statement. "Therefore it is considered that an anti-doping rule violation has taken place."
The results of the doping test automatically disqualify all competitions in which Fedorovtsev participated after May 17, 2016, the day of the rower's first urine test, which was conducted by the Russian Anti-Doping Agency.
This also means that the Russian men's quadruple sculls have now lost their qualification place for the Rio 2016 Olympic Games that the crew earned on May 24, 2016.
"The FISA Executive Committee has decided that the New Zealand men's quadruple sculls [team], who placed third, is hereby attributed this Olympic qualification quota spot," the federation said.
The World Anti-Doping Agency (WADA) first made allegations against Russia in November 2015, accusing the country's athletics and anti-doping bodies of massively breaching anti-doping rules.
After that, the IAAF suspended all Russian track and field athletes from competition and ordered the Russian Athletics Federation and the Russian Anti-Doping Agency (RUSADA) to rectify the violations uncovered during an international probe in order to be able to compete again.
In June, the International Olympic Committee (IOC) formally upheld a ban on the Russian track and field team over allegations of doping. Thus it excluded the Russian team from this year's Summer Olympic Games, which kick off in Rio de Janeiro on August 5.
Later the IOC said that Russian athletes would be evaluated individually to determine their eligibility to compete in the Rio Games. Those who are deemed clean will be able to compete under the Russian flag.
Soon, Russian sport saw another blow after the International Weightlifting Federation (IWF) banned Russia's weightlifters from competing in the Games.
However, the door remains open for some athletes to go to this summer's event if they meet stringent testing procedures and prove they are clean.