Crying Game: Messi Meme erupts online after soccer star's Copa America heartbreak (PHOTOS)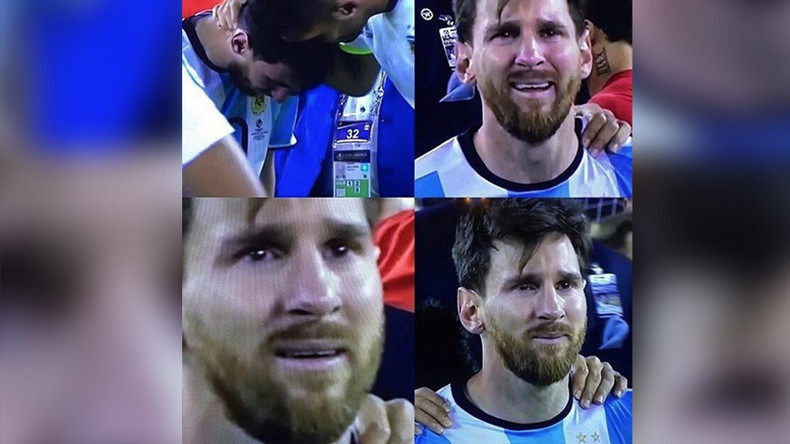 Arguably the greatest soccer player of his generation, Lionel Messi, had a night to forget during the Copa America final Sunday, missing a crucial spot-kick before being awarded a dubious 'runner-up prize' - the internet crying meme.
Barcelona's talisman may have won pretty much all there is to win at club level but Argentina's loss to Chile on penalties means the Ballon d'Or holder has now lost four consecutive international finals.
With the game all square going into a penalty shootout, Messi was one of the architects of Argentina's downfall. Chile's Arturo Vidal missed his first spot-kick, giving Messi the perfect opportunity to set his side on the road to glory.
However, he uncharacteristically failed to hit the target from 12 yards out, blazing his penalty skyward. Chile went on to win the shootout and with it the title.
No wonder he couldn't fight back the tears at the very end.
To top it all off it appears Messi is ready to retire from the international scene at the age of just 29, telling reporters in a post-match interview: "I've done all I can."
While he may want to erase the memory of that moment, the internet is doing its level best to turn Messi's heartbreak into a viral phenomenon, previously reserved for greats such as Michael Jordan, LeBron James... and that guy from Dawson's Creek.
READ MORE: 'I've done all I can': Messi 'retires' from Argentina team after heart-wrenching loss to Chile
Unfortunately for Messi, the lasting image of his international career might now be one of him in tears or with the superimposed face of Michael Jordan, unless he decides to change his mind and make a comeback.
But as one internet source of wisdom pointed out: "Even gods have emotions." So perhaps Messi should be cut some slack.