Red Bull, tobacco & no gym work: England striker Jamie Vardy revels in unorthodox regime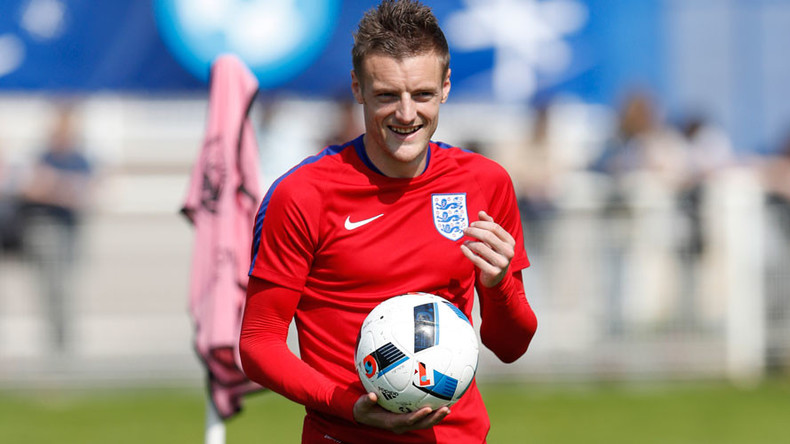 Two of the best footballers in the world, England's Jamie Vardy and Wales' Gareth Bale, have revealed interesting aspects to their diets – offering insights that go against the orthodox lifestyle of a professional.
Both players clashed last Thursday as England defeated Wales 2-1 in their Group B encounter at Euro 2016, and following the match, Vardy and Bale made some interesting revelations.
Vardy's miraculous rags-to-riches journey has been well documented, rising from non-league football just four years ago and on to Leicester City to help them win an unprecedented Premier League crown, and now representing his nation.
You might think that hours of gym work and huge attention to diet would be the key to this success, but Vardy has revealed a lifestyle of Red Bull and tobacco pouches with no gym exercise.
"I don't go in for weights or anything like that. Each and every person is different and this is my way, and I'm sure if someone else tried doing what I do then it probably wouldn't work for them," he told the press.
He has declared there was "nothing wrong" with them in terms of approval from the English medical staff and made an interesting comment about his gym routine.
"Yeah, they've [past managers] tried [to get me in the gym] and not succeeded. The last time I lifted a weight was probably that can of Red Bull the other day."
Vardy's body fat percentage stands at 6 percent and he remains one of the fastest players in the English Premier League.
Meanwhile, Welsh star Gareth Bale said he turned to a diet of burgers and chips to get over their last-gasp loss to England.
Bale converted a free-kick from long-range in the match to give Wales the lead, but Vardy's equalizer and a gut-wrenchingly late strike by Daniel Sturridge sealed the win for England.
"After the game we were very disappointed, especially to lose it in that manner," the Real Madrid man said. "Straight afterwards, it hurts.
"The day after, we all decided to go out for lunch as a group. We had a nice meal out which meant we got away from the hotel and had a change of scenery.
"Burger and chips seems to have helped. We definitely needed that – just to get out.
"It is nice to have a change and it lightens everyone's mood up. We had a nice dessert, too. I had a pancake with Nutella. I don't know yet what I'll have if we beat Russia but it'll be something nice."