Euro 2016 chaos spreads to Nice ahead of Poland-Northern Ireland match (VIDEO)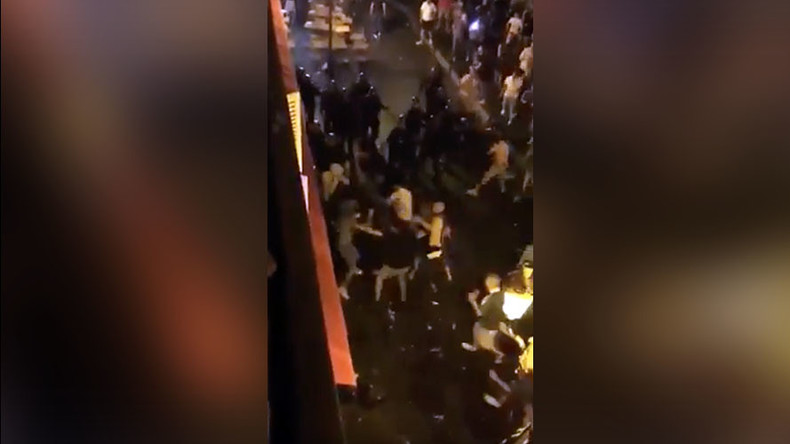 Clashes between football fans have broken out in the southern French city of Nice, ahead of the Poland vs. Northern Ireland match on Sunday. Bottles and chairs were thrown at riot police in a chaotic confrontation resembling the ongoing violence in Marseille.
Footage circulating online shows fans wearing dark green Northern Ireland jerseys fighting several men on the streets of Nice. Police are seen responding at the scene to stop the scuffles, which reportedly took place around 11:30pm local time.
According to reports, the clashes happened in the Vieux Nice area in a street in Saint-François-de-Paule as football fans were watching England playing Russia in neighboring Marseille.
The scuffles apparently started when a bottle was thrown at a Northern Ireland fan, allegedly by a group of local Frenchmen, and the crowd responded to the provocation. Bottles were thrown, tables were overturned and windows smashed before police responded to the disturbance.
"About 20 to 30 Nice youths started throwing bottles at the Northern Ireland fans. Some bottles were thrown back, some punches were thrown," Northern Ireland police officer who was at the scene of the attack told AFP.
At least seven people were injured in the clashes, with local media reporting the tussle as an isolated incident.
READ MORE: Marseille mayhem: Russia fans break into English sector, violence erupts after Euro 2016 draw
Nice Mayor Christian Estrosi condemned the fighting via Twitter, saying "the behavior of these hooligans is unacceptable and must be severely punished." The mayor said that one person was arrested in Nice's old town while "the situation is calmer now."
READ MORE: Battle of Marseille: Violent fans hurl missiles, clash with police ahead of Russia-England match
The fighting in Nice followed a day of intense clashes in Marseille, where Russia and England match ended with a 1-1 draw.