Mexican footballer Alan Pulido rescued after Saturday night kidnapping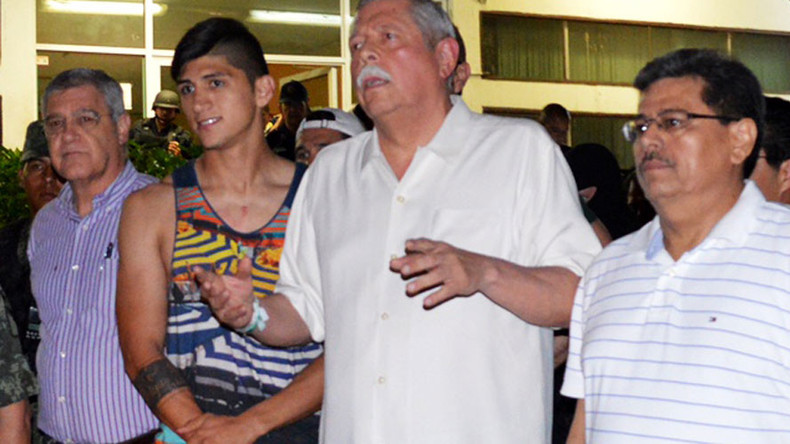 Olympiakos and Mexican national team forward Alan Pulido has been rescued in northeast Mexico after he was kidnapped on Saturday night.
The 25-year-old appeared with a bandaged hand and told reporters outside a police station he was "very well," with officials saying the operation was carried out on Sunday night.
Pulido was abducted after leaving a party late on Saturday near his hometown of Ciudad Victoria, in the northeastern state of Tamaulipas.
Officials said six masked men took the striker "by force," while his girlfriend was left unharmed in the car park where the abduction took place.
They did not release details of the rescue operation.
The kidnapping triggered an expansive manhunt in a region plagued by organized crime as a result of clashing drug cartels.
Pulido, 25, was last seen leaving a party late on Saturday night - the kidnapping prompted national outpourings of support both in Mexico and in Greece where he plays club football.
Support was voiced by Pulido's current and former Mexican teammates.
"A shame what happened, my prayers are with him and his family at this difficult time," national team goalkeeper Jesus Corona said on Twitter.
Terrible lo de Alan Pulido… en México hay miles como él y sin ayuda de nadie. Lamentable situación. Mis oraciones para Alan y su familia. 🙏🏼

— herculez gomez (@herculezg) May 29, 2016
Similar comments came in tweets from Guillermo Ochoa, Diego Reyes, Miguel Layun, Javier 'Chicharito' Hernandez and Oribe Peralta.
His brother Armando Pulido told Medio Tiempo that Alan was last seen leaving the party with his girlfriend around 23:30. He was travelling back to Ciudad Victoria when he was ambushed in his vehicle by an armed unknown group.
The 25-year-old has made six appearances for the national team, including at the 2014 World Cup in Brazil, and his kidnapping has brought worldwide attention to Mexico's ingrained culture of organized crime.
He was not selected for the Copa America that starts this coming week.
His home state of Tamaulipas, which occupies the northern border, has been the epicenter of organized crime, plagued by crimes of kidnap and extortion as a result of cartel conflicts.