Football club faces criticism after using topless model to promote new strip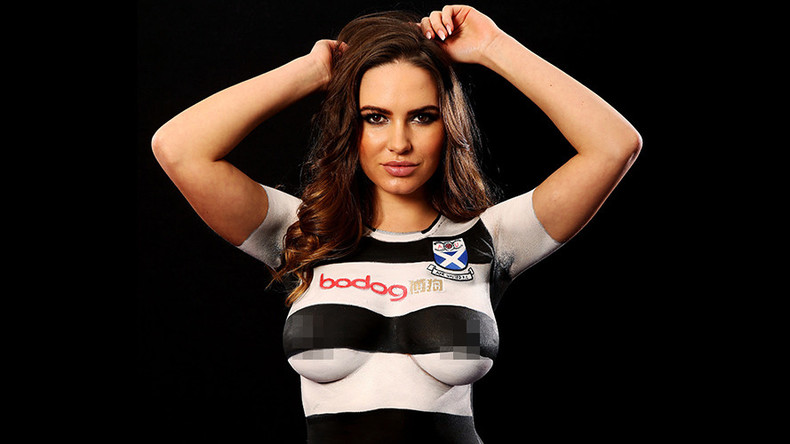 Scottish football team Ayr United has taken a slightly different approach to showcasing its new kit for 2016-17, by using a topless model covered in body paint to unveil it – resulting in a wave of criticism.
The modest club has been promoted to the second tier of its domestic leagues, the Scottish Championship, and has a long tradition of wearing black and white strips.
For additional impact when launching the new kit, Latvian model Sabine Jemeljanova (professional name Ava Sovisl) was employed to flaunt the design by having it painted onto her topless body.
Ayr United FC is known for launching new kits in peculiar fashion, but the latest ploy has certainly made headlines and the club hopes it will have the supporters running to the store to buy a new jersey.
"The Ayr United shirts are of a very high quality but it would be unfair to say they are any different from the other teams in that respect," said Clavin Ayre, the founder of the club's main sponsor.
"In fact, from what I can see from the latest photoshoot they look a bit tight to me."
However, the publicity stunt could well land the club in hot water, with reports that there have been a number of complaints to the Scottish Football Association over Ayr's ploy.
Scottish Women's Football is believed to be one of the organizations to have complained angrily about the tactic, with scope for retrospective action.
Ayr's decision follows a similarly peculiar kit move by Spanish fourth-tier side Club Deportivo Palencia, who recently ditched their normal purple strip for one depicting flesh and skinless muscles.
The Castilian club is currently battling to win promotion to Segunda B through the rigorous playoff system and hopes that the eye-catching strip will inspire its players to give their skin for the cause.
However, CD Palencia lost the first leg of its quarter-final 2-1 at home to Loja and as such has it all to do if it's to progress to the next stage – and avoid its kit ploy failing.