Hockey Worlds Day 11: Russia & Canada take no prisoners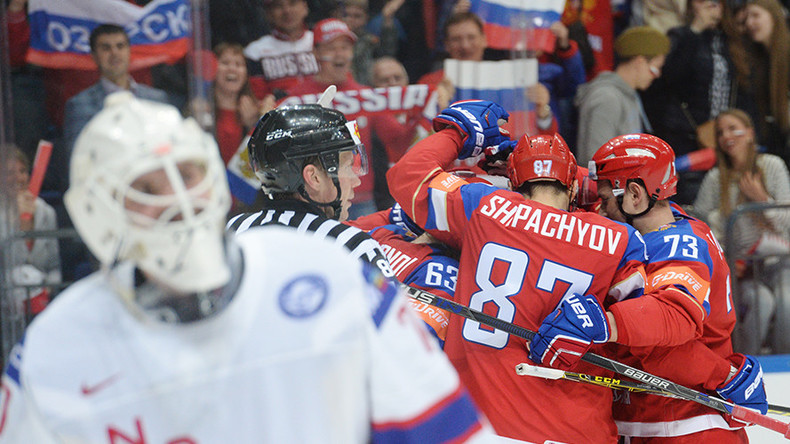 The Russian team is building a head of steam as the knockout rounds of the Hockey World Championships loom, with the competition hosts recording their fifth straight win on Day 11, beating Norway 3-0.
Monday's action was kicked off by Oleg Znarok's men facing the Scandinavians at Moscow's Ice Palace.
After a goalless first period, Ivan Telegin opened the scoring for Russia early in the second 20 minutes and Artemi Panarin doubled the home side's advantage before the end of the period.
A Roman Lyubimov strike two minutes into the third period confirmed victory for his side, with Russia unlucky not to score more goals, given that they had 28 shots on the Norwegian goal.
The result leaves the victors equal with Czech Republic at the top of the pool on 15 points.
The focus will now shift to the quarter-finals, with the business end of the competition approaching fast and Russia putting together some excellent performances.
Elsewhere in Group A, the Danes have improved markedly since their 10-1 annihilation by Russia and won again Monday, defeating Kazakhstan 4-1.
Jan Karlsson's men game firing out of the blocks and effectively ended the match as a contest in the first 20 minutes by scoring three unanswered goals.
Despite Nigel Dawes pulling one back for Kazakhstan early in the second period, Nikolaj Ehlers scored soon after to restore Denmark's three-goal advantage.
The result moves the Danes into fourth place in Group A and gives them an excellent chance to qualify for the next stage of the tournament.
In Group B, the Canadians maintained their 100 percent record by overcoming France, winning emphatically 4-0.
The Canadians are among the competition's pacesetters and extended their victorious streak to six games.
The Canadian goals were scored by Mark Stone, Matt Duchene, Mark Scheifele and Corey Perry.
In the final game of the day, the Germans built on their morale-boosting win on Sunday to overcome Hungary 4-2.
The Hungarians had made history the day before by recording their first World Championships win in 77 years, beating Belarus, but came up second best against Marco Sturm's men.
The last round of group stage fixtures will take place Tuesday, with six match-ups to decide the final places of all 16 teams.
The Russians end their group stage by playing against Sweden, and will hope to record a win to continue their momentum into the knockout rounds.
The tournament's only unbeaten sides, Finland and Canada, face off in a blockbuster to decide who tops Group B.
The Czech Republic takes on Switzerland, the United States needs to win against Slovakia to make the quarter-finals, and Belarus rounds off its competition against France.