Khan wants victory against Alvarez to set up Mayweather showdown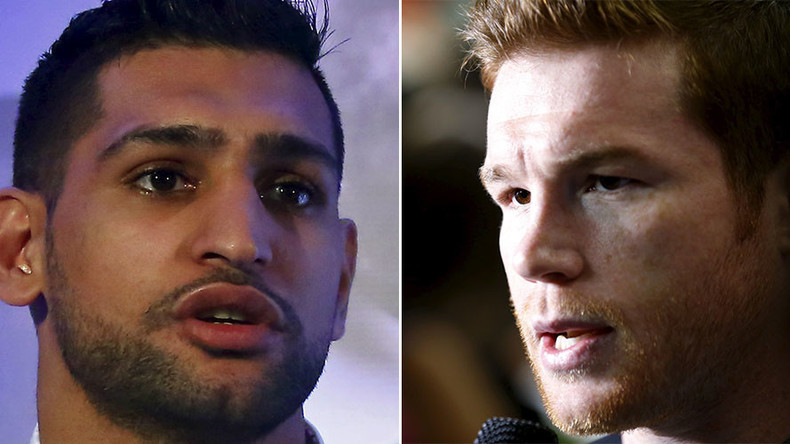 Amir Khan faces Saul "Canelo" Alvarez for the WBC world middleweight title on Saturday with the considerable shadow of Floyd Mayweather Jr hanging firmly over the bout.
Khan's bid to step out of his natural welterweight class to take on Alvarez is a brave (some would say foolhardy) decision, but he believes he has what it takes to dethrone the talented Mexican.
Alvarez has just one defeat on his professional record, against Mayweather in 2013, but Khan is relishing the opportunity to take center stage now the man they call "Money" has retired.
"My dream was to fight in Vegas, to see my name up in lights and to see that big poster – this is even better than I expected," he said.
"They have even got posters down the sides of the hotel as well. Everywhere you go people are talking about this fight, there are posters on taxis, buses and even on the room cards.
"This is something you dream of. There is also a huge screen outside the arena where the fight is going to happen. I haven't been there yet but I hope to go there tomorrow just to have a look."
With Mayweather previously refusing to fight Khan, his claims last weekend that he had "been talking with CBS and Showtime" about a comeback were met with skepticism by the Bolton boxer.
"I think Mayweather is a little bit bitter," he said. "He is walking and driving around Las Vegas, and people are talking about my fight with Canelo.
"He has probably seen the big poster at the MGM, and now it is me and Canelo. I remember him saying a long time ago he wanted to be the first guy to fight at this new arena.
"Basically now people aren't talking about him and he is missing all this. That is why he is saying these things now to try to get people talking about him again.
"I'm sure he is missing it. This used to be his day. Wasn't it this date when he fought Manny Pacquiao last year?"
Despite Mayweather trying to take the spotlight away from this weekend's event, both Khan and Alvarez head into the bout knowing victory could set up some mouthwatering future fights.
Boxing writer Gary Andrew Poole believes Khan has bitten off more than he can chew by fighting Alvarez and predicts the Mexican will emerge victorious.
"Khan's greatest asset is his attacking speed, and to win he will need to put his speed to work quickly because his defensive tactics and chin are seriously suspect," Poole said.
"Three major factors point to a Canelo knockout victory – he has more power, fought more quality opponents and has smartly set a 155-pound catch weight because it will make his power punches more devastating.
"Khan is a very good lightweight who has tried to chase bigger purses in the welterweight division.
"Rising yet another eight pounds will be a bridge too far and Canelo, if he can withstand an early assault, will break him down and knock him out.
"If Canelo wins, the world hopes he will face Gennady Golovkin in the fall."
While Poole and many other experts think Khan faces an uphill battle on Saturday, he is confident of success and already knows who he wants to fight next if he wins.
"I think the Mayweather fight has to happen if I beat Canelo," Khan told Sky Sports News HQ.
"Styles make fights and I really believe a fight with Mayweather would be easier than a fight against Canelo.
"Canelo has got that physical strength, whereas Mayweather would be like a game of chess.
"I've got a massive fight with Canelo in front of me and by winning this fight it would definitely take me on to the biggest fight of my career and a bigger one than the one I'm going to be facing on Saturday."