Meet Anastasia Yankova, rising star of women's MMA (RT Exclusive video)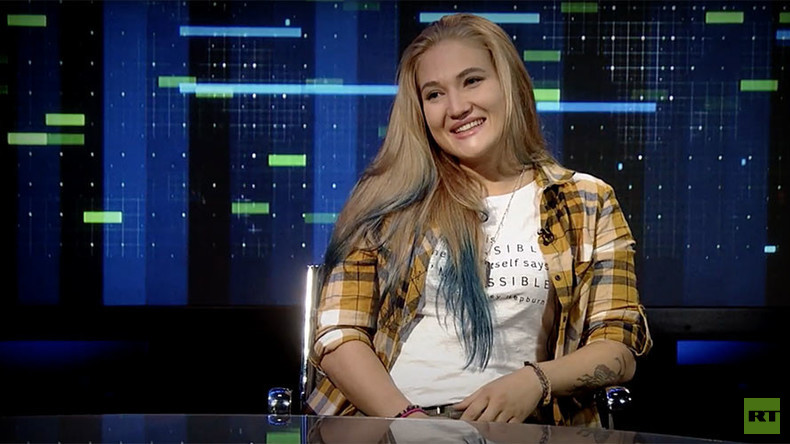 Muay-Thai champion Anastasia Yankova made an impressive debut in UFC's rival promotion Bellator in April, winning by submission just 1 minute 35 seconds into the first round. But she also attracted media attention with her remarkable appearance and charisma.
Yankova visited RT headquarters shortly after her first Bellator fight, telling us more about her career and personality.
Signing with Bellator
"There are two major MMA promotion companies in the world. And I happened to become part of one of them. It's a big success for anyone who does professional MMA to be signed here. I can't even believe it's happened to me. I still get goose bumps when we talk about it. It's exactly what I've dreamed of."
Tattoos
"Each one of them is a part of me. And even my mom, who didn't want to talk to me for one day after I got my first big tattoo, says that she can't imaging me without them already. There are no random tattoos on my body – each one has its meaning to me. It all started with that small one I have on my forearm. It says: "Float Like A Butterfly, Sting Like a Bee". The famous saying of the great boxer Muhammad Ali. It's a reminder for me. In and out of the ring."
Knives hobby
"My first knife I got in my childhood as a gift when I went camping. So that knife was really useful at that moment. I remember how happy I was. I felt like I was a soldier. Having a real weapon of my own. Since then my friends have given me a lot of knives as gifts. I have custom-made ones with my name on them. Collectible ones. I really think knives are beautiful."
Poetry
"I enjoy reading poetry and listening to some romantic music. I attend poetry shows in Moscow. I like modern Russian poets, as well as classic ones. Joseph Brodsky for example, and Vladimir Mayakovsky."
Conor McGregor
"During my preparation for fights I don't follow any sort of media, I just focus on my training. But even if you turn off all your devices, still you will hear some news about him. Someone will come to you and tell you if something has happened with Conor. He definitely knows how to be in the center of attention. I can't even think of anyone else who could do it better."