Formula 1 returns to Sochi as Rosberg leads pack to Russia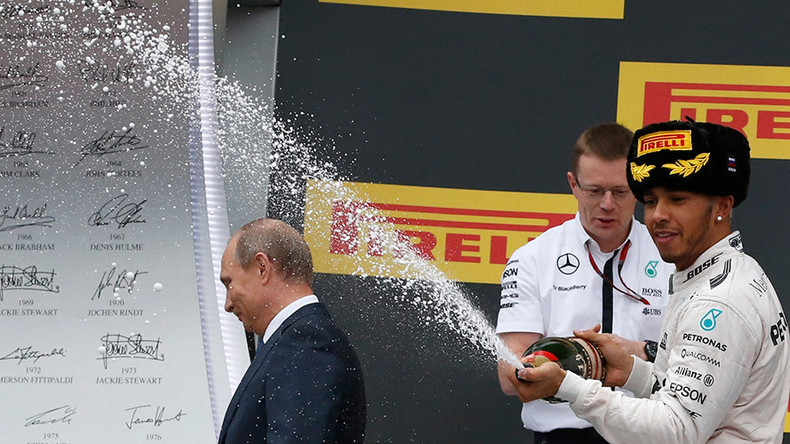 Russia is the home of Formula 1 this weekend as it returns to the Sochi Autodrome for the fourth round of the 2016 season.
Reigning champion Lewis Hamilton has won the two previous races at the Sochi circuit, but heads into Sunday's race without a win so far this season.
Hamilton trails Mercedes teammate Nico Rosberg by 36 points, with the German securing the first three races of the new campaign.
The British driver finished seventh in the previous round in China, but he is hopeful the Sochi race will spark a return to form.
"There was plenty going through my head after China, as you'd expect," he said.
"But, after all these years, experience has taught me to stay calm and keep pushing forwards when I get knocked back.
"I had a great start in China too, so hopefully I can continue that and use it to my advantage to build my races from a better base.
"I've won on both occasions in Russia so far and it's a track that seems to suit me pretty well, so let's see what we can do there."
After finishing second in the title standings for the past two seasons, Rosberg has made an impressive start to the new season.
While is he is happy to have built an early lead, the German remains wary of the threat posed by Hamilton.
"I've made the most of my opportunities and I have a bit of an advantage in the points right now – but we are only three races down and it would just take one bad weekend for that gap to disappear," said Rosberg.
"Lewis is still the benchmark for me as he is the current champion. Ferrari haven't shown what they can do yet and Red Bull also look like they're getting stronger, so it's going to be a good battle and I'm looking forward to that.
"Sochi holds great memories of celebrating the two championship wins with the team too, so I'm excited to be heading back and seeing how we perform."
Red Bull's Daniel Ricciardo currently lies third in the standings after three fourth-placed finishes.
The Australian failed to finish in Sochi last season, but believes he can build on his solid start to the season this weekend.
"I think the track hasn't suited us in the last two years, but we've had some strong races so far this year on circuits we didn't think suited us either so let's see what happens," he said.
"In the past it's been quite a low grip. It got a bit better last year but it's still quite slippery and because there is not that much tire wear we haven't done many pit stops in the past.
"There is not much camber change which you get on a lot of tracks. Also the corners are very flat and because of that quite unique. I'm looking forward to going back."
Ferrari have looked improved so far this season, with Sebastian Vettel and Kimi Raikkonen currently rounding off the top five in the drivers' standings.
Vettel finished third in Australia and second in China, but an engine failure cost him the chance to secure points in Bahrain.
Despite trailing Rosberg by 42 points, the four-time world champion is pleased with his start to the year.
"I think I only had two races, the two races I have had are OK," said Vettel.
"Overall it's not been the smoothest road to Russia so hopefully we'll have a solid weekend there.
"Last year the car felt pretty good and we made a step forward with the car and power unit, so I'm quite confident for Russia.
"There's a couple of bits coming so hopefully we'll be a bit stronger and have a smoother weekend."