South Africa banned from hosting global sporting tournaments over not enough black players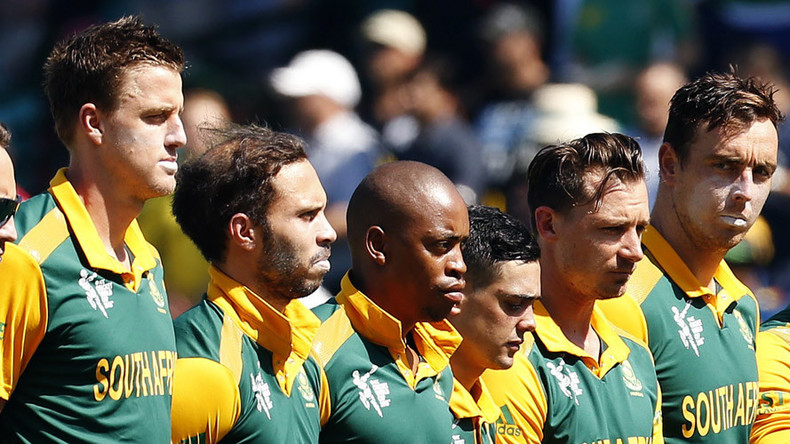 The South African government has banned four of the country's sporting bodies from bidding to host global events because there aren't sufficient black players in national teams.
South African Sports Minister Fikile Mbalula said the national associations overseeing cricket, rugby, netball and athletics had failed to meet transformation guidelines.
A plan has been put in place to increase the representation of black sportsmen and women in South African teams, with a government appointed committee assigned to report progress.
The eminent person's group (EPG) relayed its latest findings to the government via an annual report, which sparked a sanction from Mbalula.
"I have resolved to revoke the privilege of Athletics South Africa, Cricket South Africa, Netball South Africa and South African Rugby to host and bid for major and mega international tournaments in South Africa as a consequence of the aforementioned federations not meeting their own transformation targets with immediate effect," he said.
"I will review this decision when considering the results of the 2016-2017 transformation barometer."
South African cricket great Jacque Kallis took to social media to express his disappointment at the decision.
@News24 So sad that i find myself embarrassed to call myself a South African so often these days #no place for politics in sport

— Jacques Kallis (@jacqueskallis75) April 25, 2016
Sporting federations in South Africa signed a memorandum of understanding last May, which included a five-year plan and commitment to make changes.
While this covered coaching and administrative structures, the crux of the agreement included a pre-requisite for 60 percent of international players to be black.
Rugby has had player quotas in the Springboks national side for some time, with some of the country's finest players being black, including Bryan Habana, Chester Williams and Tendai Mtawarira.
However, the core of the national rugby team remains predominantly white, with major changes needed to come in line with the government's transformation targets.
In the current national cricket side, 55 percent of the players are black, falling short of the required quota.
"It is the right thing to do considering the grave injustices of the past, but there is also the reality that 84 percent of the country's under-18 population is black African," Mbalula said.
"To ignore this from a sustainability perspective alone will be suicidal."
South Africa is set to host a number of international tournaments in the future, including the under-19 Cricket World Cup in 2020 and the 2022 Commonwealth Games in Durban.
However, it is believed that these competitions will not be under threat, but the African nation will not be able to put forward proposals to host any other sporting tournaments for at least the next 12 months.
Rugby looks likely to be the sport most adversely affected, with South Africa now seemingly unable to bid to host the 2023 World Cup. They face competition from France, Ireland and Italy to win the rights for the competition in seven years.
South African Rugby chief executive Jurie Roux said he would meet Mbalula to discuss the 2023 World Cup bid.
"The bidding process is due to start next month but will not conclude until next year by which time SA Rugby hopes to have the right to host reinstated," Roux said.
"There is no question that we have more work to do and we could be moving faster.
"But our sport has undergone a major overhaul in how we do business and how we measure ourselves in the past two or three years and we have definitely made great progress."
Football is believed to be the only major sport to have hit the transformation targets.