Jon Jones overpowers Ovince at UFC 197
Published time: 24 Apr, 2016 08:33
Edited time: 24 Apr, 2016 08:36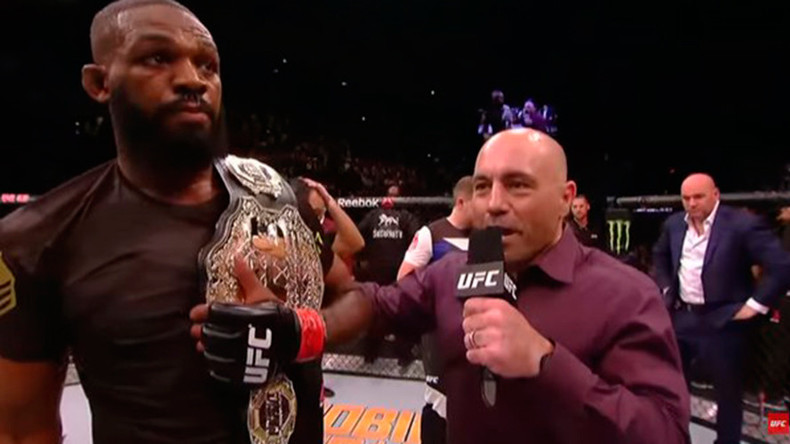 Saturday night's UFC 197 in Las Vegas saw Jon Jones win the interim UFC light heavyweight title, a successful flyweight title defense by Demetrious Johnson [Johnson v Cejudo], and a series of superbly entertaining fights to lead into the main event.
With the light heavyweight champ Daniel Cormier withdrawing from his fight against Jon Jones due to injury, the main event saw the former UFC light heavyweight champion Jones make his long-awaited return to square off against Ovince Saint Preux for the interim UFC light heavyweight title.
Jones, returning to the Octagon after 15 months, started out slow, aiming for a head kick when he saw an opening and otherwise preferring to let OSP make a mistake. The strategy looked to backfire in round two, as Jones ate a huge left and then a right in round two. OSP was in ascendancy by the end of round two, but Jones turned up the aggression in round three, focusing on oblique kicks and body kicks to wear down his opponent.
Jones was in full control by round four, slamming OSP, keeping him on the fence and pummeling him with elbows and hard shots. Instead of going for a quick win, Jones seemed to be intent on getting a full workout, with OSP looking nowhere near being able to take down the bigger man.
The final round started with the two men circling each other for a minute, looking for any openings. The crowd had grown restless throughout the fight given the lack of action and the relatively inability of both men to fully commit to attack. OSP finally moved in but the fight continued as it had before, with Jones overpowering OSP at will but backing off before he could finish the fight.
Jones got the unanimous decision at 50-45, but watching the fight it was clear he was fighting within himself.
Demetrious Johnson was an overwhelming favorite going into his eighth title defense for the flyweight championship against Henry Cejudo, although with the way big title fights have gone in recent months it's a safe bet to say anything can happen.
The fight started at a furious pace, Johnson landing a mix of kicks and hooks to rattle his opponent. Cejudo attempted to close the distance and take the fight the ground but Johnson kept kicking him off and landing heavy knees to the body and head.
As the round progressed, Johnson sensed a weakness in Cejudo's defense and stormed forward, dropping Cejudo with another knee and pouncing on him with punches for a TKO at 2:49 in round one. A fast, efficient title defense against a fighter who was 10-0 going into tonight.
Earlier in the card, Robert Whittaker overcame Rafael Natal in a slugfest with both fighters focusing on landing heavier and heavier blows as the rounds progressed.
Like a Playstation fight with submissions disabled, Whittaker and Natal traded hits from start to finish.
While the first round was marginally close, Whittaker landed the harder shots throughout round two and the effects showed, with Whittaker landing a big head kick in the fight's closing seconds to wrap things up.
Edson Barboza defeated former UFC and WEC lightweight champion Anthony Pettis by unanimous decision in a fast-moving bout, taking an early lead with a flurry of hits in round one and never letting up his advantage. By the end of round two the damage showed on Pettis with welts on his leg and midsection, and while he attempted a comeback in round three, Barboza was able to shut him down by efficient movement and smart counters.
Mexican Yair Rodriguez took the plaudits with a second round KO. The first round between him and Andre Fili ended relatively even, with a frantic pace set by both featherweights. In the second round, with Fili back-peddling and checking his left eye with his left hand, Rodriguez made his move with a jumping switch kick to Fili's head to send his opponent crashing to the ground.
UFC 197 Official Results
Main card
Jon Jones def. Ovince Saint Preux via unanimous decision (50-44, 50-45, 50-45)
Demetrious Johnson def. Henry Cejudo via first-round TKO (2:49)
Edson Barboza def. Anthony Pettis via unanimous decision (30-27 x 3)
Robert Whittaker def. Rafael Natal via unanimous decision (30-27, 29-28, 30-27)
Yair Rodriguez def. Andre Fili via second-round KO (2:15)
Undercard
Sergio Pettis def. Chris Kelades via unanimous decision (30-27 x 3)
Danny Roberts def. Dominique Steele via unanimous decision (29-28 x 3)
Carla Esparza def. Juliana Lima via unanimous decision (30-27 x 3)
James Vick def. Glaico Franca via unanimous decision (29-28, 29-28, 30-27)
Walt Harris def. Cody East via first-round TKO (4:18)
Marcos Rogerio de Lima def. Clint Hester via sub (arm triangle) (R1, 4:35)
Kevin Lee def. Efrain Escudero via unanimous decision (29-28 x 3)