UFC Round-up: Aldo accuses McGregor of 'juicing,' Jones trashes Cormier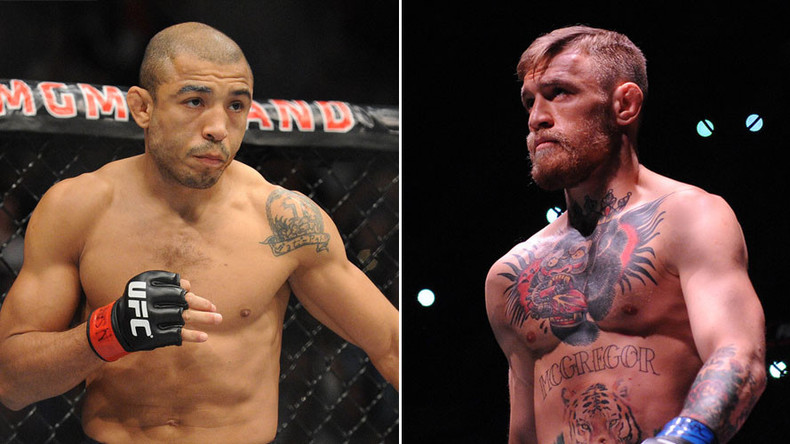 Jose Aldo has accused Conor McGregor of using banned substances before his recent fight against Nate Diaz, repeating previous allegations he has made against the Irishman.
Former UFC featherweight champion Aldo was offered a bout at lightweight at UFC 196 but rejected the opportunity, claiming the Irish fighter was using performance-enhancing drugs.
"The fight was not at featherweight – why would I rematch him in a different weight class with no belt?" Aldo said.
"Now, to make this fight at 155, where he was full of juice in his body, where he hides and nobody tests him, only when he gets to Las Vegas, a week before the fight, and then it's way easier for you to clean the body and fight.
"They offered the fight knowing that I wasn't trained at all. I can't say anything. I can train, beat Frankie Edgar and then know that I've earned my fight for the title again."
READ MORE: UFC 196: Nate Diaz overpowers Conor McGregor in a shocking win

Aldo, who will face Edgar for the UFC interim featherweight championship at UFC 200 in July, believes McGregor will eventually step back down to featherweight and has backed Diaz to dominate their second fight.
"Nate wins again," he said. "He's used to this weight. It's really hard to move up in weight and continue winning.
"It's going to be different now that Nate will be more prepared. He can do his thing, anything he wants, from start to end.
"He can slap him, anything, because he will win. It can be faster this time. Nate will prepare, will have enough time, and it can be faster this time."
READ MORE: McGregor gets rematch against Diaz at 170 pounds, confirmed to headline UFC 200
The Brazilian sees his bout against Edgar as a stepping stone to regaining his title and admits he is frustrated not to have been given a rematch against McGregor.
"For everything I've done, all the years as champion, I deserved a rematch, but what can I do?
"I had to accept. We're not the ones making the call. We'll go there and win. I respect Frankie Edgar, but it's our first step towards the belt.
"I want the victory so I get the belt next. That's the first step we're taking. Interim belt is made for media and fans, not for me. I want the undisputed belt."
One fighter who doubts whether McGregor will step back down to featherweight is Max Holloway.
The 24-year-old Hawaiian is on an upward curve in the division with eight consecutive wins, but he doesn't think that will carry him into a fight against McGregor in the near future.
"At the end of the day, who knows if he comes back to 145? Honestly, my feeling, I don't think that he does," Holloway said.
"I think that 155-pound fight [against dos Anjos] was already saying that he just wanted to be at 155, hold the two titles, say that he did it, then just move up full-time.
"That's what I thought he was thinking of doing, because he's a big guy. All you hear of him is struggling to make 145. This guy struggles. You see, all he does is cut weight all week long."
Former UFC light heavyweight champion Jon Jones has mocked Daniel Cormier on Twitter after his opponent pulled out of their upcoming title fight at UFC 197.
"So much for being willing to die," Jones wrote, before deleting the tweet a few minutes later.
Cormier fired back in no uncertain terms, letting Jones know what he thought of him.
Last tweet. Jon ur dumb! Like really dumb. Get off ur high horse and stop riding the white horse. Junkie , I'm gonna rip ur head off!

— Daniel Cormier (@dc_mma) 5 April 2016
A training injury forced Cormier's withdrawal, but with Jones desperate to regain the title he was stripped of as a result of a felony hit-and-run arrest, his frustration was clear to see.
Cormier is likely to be able to return in August or September and will be expected to fight the winner of Jones versus Ovince Saint Preux, which has been scheduled as a replacement bout.
READ MORE: UFC's Jon Jones set for court after drag racing row (VIDEO)

Jones and Cormier have a long-standing dislike of each other which dates back to a brawl at a press conference at the MGM Grand Garden Arena in 2014 ahead of their first fight.