Former NFL player poised for WWE move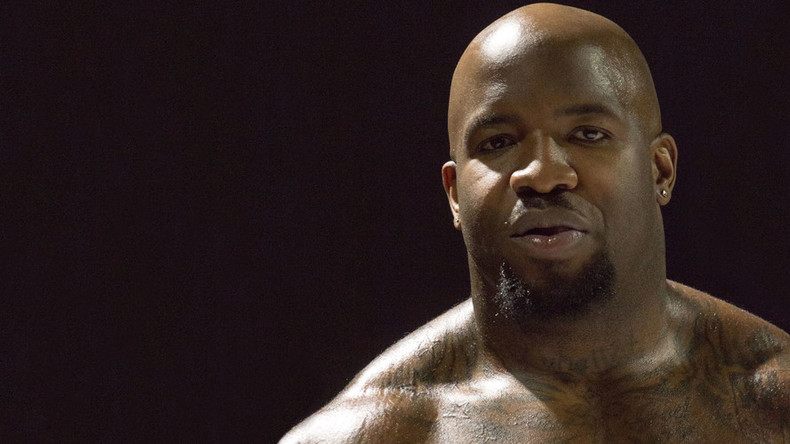 When former NFL player Quinn Ojinnaka decided to change careers and become a professional wrestler the news didn't go down very well at home.
Despite enjoying a comfortable lifestyle Ojinnaka wasn't enjoying football, so he decided to pursue what had been a lifelong dream.
"The first person I told that I was retiring from the NFL to become a pro wrestler was my ex-wife and her reaction was that she hated it and that I was being selfish for retiring at a young age," he said.
"One of the biggest reasons why we split up was because I was leaving all this money on the table for something that was just a maybe."
A strong performance against New Japan Professional Wrestling's heavyweight champion Kazuchika Okada at independent wrestling promotion Ring Of Honor's 14th Anniversary show, was proof there was plenty of sense behind Ojinnaka's decision.
Respected WWE commentator and talent scout Jim Ross believes it's only a matter of time before the man known as 'Moose' makes the next step up.
"He has that competitive edge from being in the NFL and you don't check that at the door," said Ross. "He has a truly fascinating upside with his agility, physicality and competitive drive to be the best.
"He has special skills that you simply cannot replicate and I would be shocked if he's not in the WWE in the next few years."
If Ojinnaka does hit the big time, he would join a long list of people who have made the switch from the NFL to the squared circle.
WWE legend "Hacksaw" Jim Duggan spent time with the Atlanta Falcons, before going on to win the first Royal Rumble in 1988, while former Cleveland Browns player Ron Simmons' wrestling career was so successful he was inducted into the WWE Hall of Fame in 2012.
Bill Goldberg's NFL career with the Falcons was cut short by injury, but he found fame and fortune in the WCW before joining the WWE.
Brian Pillman played for the Cincinnati Bengals in 1984 before teaming up with Steve Austin - before he became 'Stone Cold' - as one-half of the Hollywood Blondes, while Dwayne 'The Rock' Johnson's cousin, Roman Reigns, played for the Minnesota Vikings and Jacksonville Jaguars before becoming a star in WWE.