El Clasico: Can Barcelona beat Real Madrid to make it 40 matches unbeaten?
Published time: 2 Apr, 2016 10:28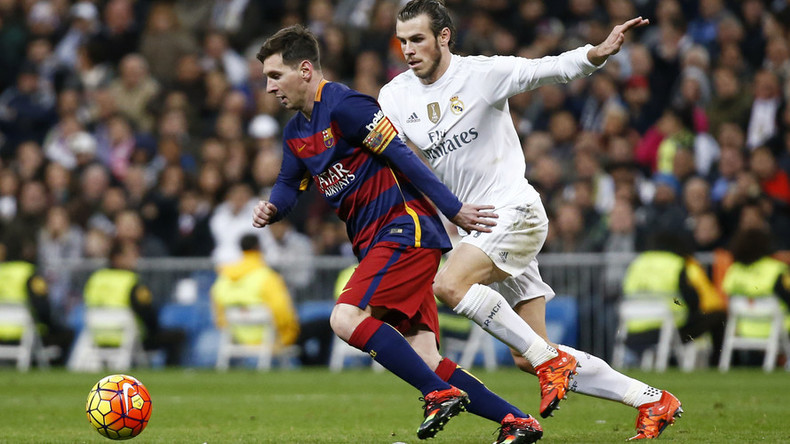 It is arguably the most prestigious game in world football and Saturday's clash between eternal rivals Barcelona and Real Madrid promises to live up to sky-high expectations.
This Clasico has a multitude of undertones and connotations, with the result set to have decisive consequences either way.
The Catalan hosts enter the game as overwhelming favorites, given that they have been largely unplayable over the last three months – and have a growing unbeaten record to maintain.
Barcelona's last defeat came back in early October at the hands of Sevilla, but since then the European champions have gone a staggering 39 games undefeated in all competitions.
Madrid meanwhile have seen their chances of mounting a La Liga title challenge subside, with a 10-point gap between leaders Barca and Zinedine Zidane's men in third.
A 4-0 defeat at the Santiago Bernabeu in the reverse fixture was the straw that broke the camel's back for then-manager Rafa Benitez, and winning back pride will certainly be in the visitors' thoughts this weekend.
The personal battle between the world's two best players will resume, as Lionel Messi looks to reiterate his worthiness of being awarded a record fifth Ballon d'Or accolade back in January.
His nearest rival Cristiano Ronaldo has a strong record against Barcelona but will need to be at his mercurial best to inspire Los Blancos to victory.
A home win will all-but ensure the hosts retain their Primera Division title. An away win would end the unbeaten record and make the run-in more contestable.
The game is set to be watched by millions all over the world and the connotations encompass more than sporting factors.
This Clasico fixture will be even more emotional than usual, with Blaugrana legend Johan Cruyff recently passing away.
READ MORE: https://www.rt.com/sport/337022-johan-cruyff-dies-68/
Barcelona claim to be more than a club, with their team representing Catalonia and the ongoing push for independence. Capital city Madrid are seen as the opponents to this freedom.
The historical significance of the game continues to be apparent, with these two rivals regularly recalling their respective famous victories from over the years.
Barcelona have had the better of it in the last decade, with famous 5-0 and 6-2 victories under the Pep Guardiola regime going down in folklore.
To offset this, Madrid boast of being the best team in the continent's history, courtesy of their Decima triumph in becoming European champions for a record 10th time in 2014.
From an economic perspective, the Clasico sides continue to be two of the most well-supported and affluent clubs in world football.
A war continues to be waged for supporter loyalty away from the action, with the brand of each club appealing to football enthusiasts across the globe.
A fixture that encompasses the world's best players, biggest clubs and largest following, Saturday's Clasico promises to be a global sporting highlight.