Trafalgar, the rematch: British & French naval rugby teams brawl violently (VIDEO)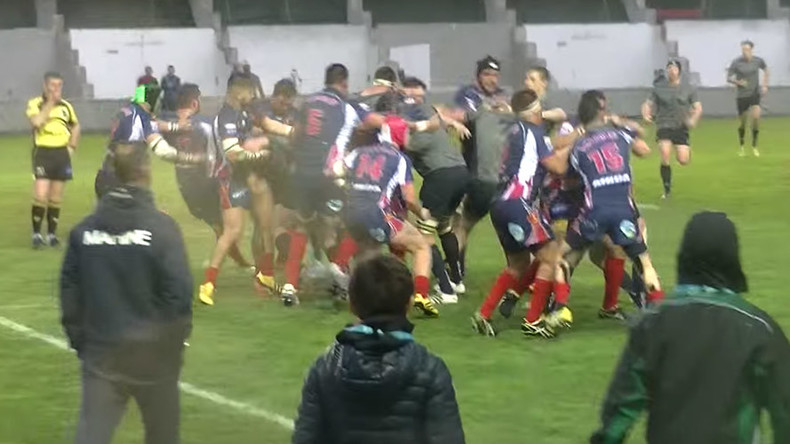 Not since the Napoleonic wars have the British and French navies produced such shocking scenes of violence. This Anglo-French thuggery was not seen at sea, however, but in a mass brawl at a rugby match in Toulon, France.
Almost every member of both teams was involved in the punch-up, with players from the replacements bench joining the fracas as several fights broke out across the field.
A YouTube video shows British Royal Navy players, wearing gray, and the French Navy, in blue, throwing punches and grappling with each other during the match in Toulon.
Welsh star Leigh Halfpenny was in the crowd watching his friend, Sam Davies, who was in the Royal Navy team.
The incident resulted in two red cards and a yellow card for a late tackle.
The bad-tempered game eventually resumed, with Marines Nationale going on to win 28-6 to level a long-running series of naval battles at 6-6.
Sport has seen a long history of unseemly incidents including the 1984 MLB battle between the Atlanta Braves and the San Diego Padres.
The NHL always has its fair share of fighting with the 2012 game between the New Jersey Devils and the New York Rangers a particularly fearsome clash.
Football can also lend itself to fisticuffs, although you would need to go a long way to beat this junior match in Paraguay which saw all 36 players and subs from Teniente Farina and rivals Libertad dismissed for fighting.