UFC Fight Night 85: Mark Hunt drops Frank Mir, McGregor in focus again
Published time: 21 Mar, 2016 14:09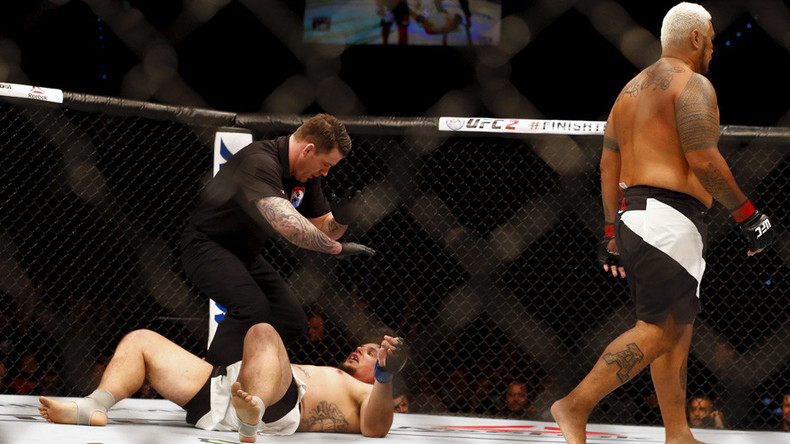 Veteran kickboxer Mark Hunt scored an impressive victory at Saturday's UFC Fight Night 85 event, when he stopped former heavyweight champion Frank Mir after just three minutes of their contest.
The 42-year-old entered the bout in Brisbane, Australia, in terrific shape, easily fending off Mir's attempts to take the fight to the ground.
Hunt set up his American opponent with two jabs, before throwing a devastating right hand which dropped Mir to the canvas.
Rather than finish the job, Hunt casually walked away before referee Marc Goddard officially ended the bout.
"There's always a winner and a loser and it's sad that one of us had to lose tonight," said Hunt.
"Frank is a good dude, I respect him a lot and I want to thank everyone out here for coming out and supporting us. I appreciate all you guys. And, to all the fighters, it's not about winning or losing."
Elsewhere on the card, Neil Magny scored a third round victory against Hector Lombard in their welterweight fight, while Jake Matthews and Dan Kelly also won their respective bouts.
Former ice hockey enforcer Steve Bosse silenced his critics with a comprehensive middleweight win against James Te Huna.
Bosse threw a three-punch combination, finishing with a right hand that ended the bout early in the third round.
"I came here to fight three rounds," Bosse said. "I knew when I hit him, I hit hard. That's what I was hoping for in the fight. But if it went three rounds, I'm ok to do three rounds too.
"Hit him and knock him out - that was the game plan. Every time, it's the game plan. But, if it didn't work, I'm a mixed martial artist. I can do it on the ground - I can do anything.
"Now I proved what I can do. I can do a big knockout. I hit harder. I hope people were loving to see this tonight."
Conor McGregor is never too far away from the UFC spotlight and Jose Aldo made sure that was the case again this weekend, when he said the Irishman should return to the featherweight division with his "tail between his legs" after his loss to Diaz in a welterweight contest at UFC 196.
"He's a lion when he's attacking, but a kitten when he's getting beat up," Aldo said. "Everybody saw in his eyes that he's just a p**** that quits when he's getting beat up. That's what we saw. I'm waiting for the rematch. It's the right thing to do in my opinion because there was no fight, and everybody wants to see a fight. Everybody wants to see me beating him up, and that's what I'm going to do. I will run through him, that's a fact. I don't see [any] other scenario in my head besides going there and winning, and getting my belt back."
While McGregor's defeat saw some fans and fellow fighters reveling in his misfortune, former UFC fighter Chael Sonnen has defended how the featherweight champion goes about his business.
Well known for his own ability to 'sell' a fight, Sonnen says he understands McGregor's methods.
"His job is to work hard and fight as hard as he can, try to build some great memories, and maybe even put a few dollars away for his family," said Sonnen.
"But that's where it ends. That's it. He doesn't owe anybody else anything. But it's a two-way street, the fans don't owe him anything either. Go out and entertain them, give them their money's worth and go home, and that's it.
"I've had private conversations with Conor where he said stuff and I've walked away from the conversation thinking, there's a guy who gets it. There's a young man who is years ahead of his time and understands what this is all about.
"So I don't think Conor is going to fall off the deep end. Now, I don't like his spending habits, but he's a grown man and can do what he wants."
UFC Fight Night 85 results
Mark Hunt def. Frank Mir via KO (punch) at 3:01 of R1
Neil Magny def. Hector Lombard via TKO (punches) at 0:46 of R3
Jake Matthews def. Johnny Case via submission (rear-naked choke) at 4:45 of R3
Dan Kelly def. Antônio Carlos Júnior via TKO (strikes) at 1:36 of R3
Steve Bosse def. James Te-Huna via KO (punch) at 0:54 of R1
Bec Rawlings def. Seo Hee Ham via unanimous decision (30-27, 30-27, 29-28)
Alan Jouban def. Brendan O'Reilly via TKO (strikes) at 2:15 of R1
Dan Hooker def. Mark Eddiva via submission (guillotine) at 1:24 or R1
Leslie Smith def. Rin Nakai via unanimous decision (30-27, 29-28, 29-28)
Viscardi Andrade def. Richard Walsh via unanimous decision (29-28, 29-28, 29-28)
Ross Pearson def. Chad Laprise via split decision (28-30, 30-27, 29-28)
Alan Patrick def. Damien Brown via unanimous decision (30-27, 30-27, 30-26)