Double world champion Fernando Alonso dodges death in terrifying crash
Published time: 20 Mar, 2016 14:28
Edited time: 20 Mar, 2016 14:57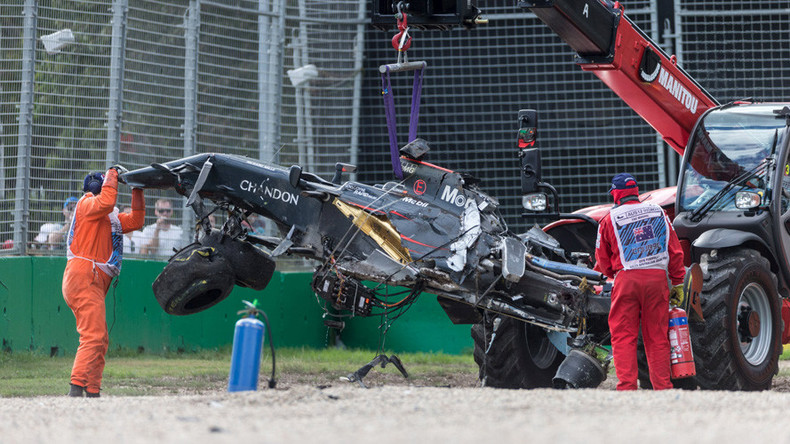 Fernando Alonso, 2005 and 2006 Formula 1 world champion, survived a harsh landing after his car span spectacularly out of control, as footage from the Australian Grand Prix shows.
The video reveals the McLaren's right wheel catching rival racer Esteban Gutierrez's car on lap 18, causing Alonso's vehicle to hit the track barrier, twist through the air and turn over, before finally smashing on the ground.
Most records of the crash have now been erased from Youtube after a claim from Formula One's management.
"You see the sky, then you see the ground, you see the sky, so you don't know exactly where you are," said the Spanish racer, describing his experience.
The damage inflicted on Alonso's McLaren is 'devastating', 'obliterating' as media and witnesses describe it, attaching pictures of the wreck.
As track staff were approaching the crumpled car, the 34-year old Spaniard got out and walked away. Gutierrez, whose vehicle was also stricken trackside, jumped out of his car and ran over to check on Alonso.

"It was a scary crash. Lucky to be here and happy to be here, and thankful to be here -- especially to the FIA [International Automobile Federation] and all the safety, thanks to that probably I'm alive," Alonso said afterwards. "We lost the power unit and the car because there was a lot of damage, but I'm super happy to be talking," he added as quoted by Reuters.