Diaz: UFC lied over payout & are protecting McGregor after UFC 196 loss
Published time: 18 Mar, 2016 11:38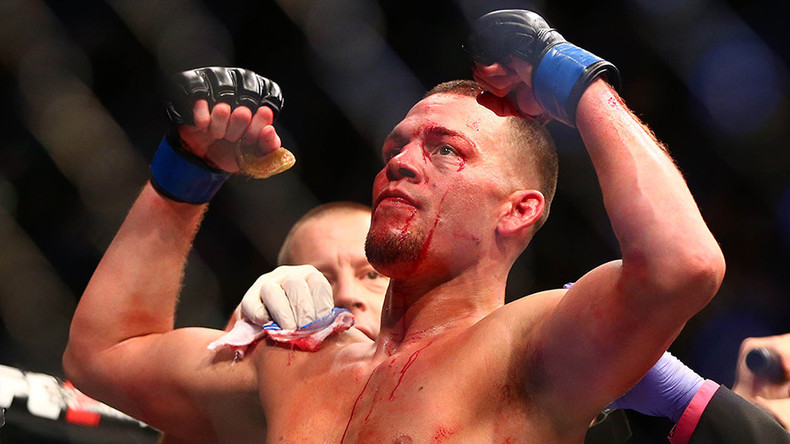 Nate Diaz has suggested the UFC exaggerated the amount of money he earned from his latest win and that the man he beat, Conor McGregor, is being unfairly protected after defeat.
Irish sensation McGregor moved up two weight classes to 155 pounds and was the favorite to claim victory in the March 5 bout.
READ MORE: UFC 196: Nate Diaz overpowers Conor McGregor in a shocking win
However, veteran Diaz upset the applecart by vanquishing his opponent in a bruising encounter and bringing the defeated fighter back down to earth after vociferous pre-fight trash talk.
UFC president Dana White said the 30-year-old made 'millions' after defeating McGregor, but Diaz has been quick to set the record straight.
"I made a good amount of money," he said.
"I think they're over-exaggerating how much. I don't feel like anybody did me any favors, I'll tell you that much, but I made a good chunk of change and I'm grateful. I've been demanding that.
"I was screwed for a long time. My problem was I was a soldier for a long time. I never even considered money, it was more about not getting my ass whooped.
"Once I thought about it for two minutes, I realized I was getting f***ed. It was stupid not to pay attention to that the whole time. If I had been thinking business since I was 21, I'd be a rich man right now."
Diaz is said to have made $500,000 from UFC 196 - a significant jump from the $15,000 he claimed to have been paid for a fight back in 2012.
The victorious fighter is now eyeing up a big-money clash, a title fight, for his next appearance in the octagon.
"I'm not asking for anything. I'm demanding more than everybody," Diaz said.
"I want more than everybody, straight up. Money talks. I want the biggest fight. Whoever I've got to fight - the biggest show, biggest payday - that's what I want."
McGregor was humble in defeat by Diaz, with the loss sullying an otherwise impressive UFC record and blunting the Irishman's momentum.
Despite this, Diaz has shown no sympathy for the man he has just beaten and feels that the UFC have protected the outspoken and marketable star.
"I feel like, honest, I feel like the UFC wants to weed me the f*** out of this position," Diaz continued.
"I don't know if I'm supposed to say that. Sorry! I feel like a lot of people are coming at me now. I see them making a lot of excuses for him, and I think it's kind of ridiculous.
"I don't think it's just the UFC. It's everybody. People are saying, 'Oh, [McGregor] is great, he's accepted the loss so well.' If I would have lost, people would be saying, 'piece of s*** shouldn't have accepted the fight.' I don't mean to be bitter, but there are a lot of excuses being made for this guy. He's talking about winning the first round. There are five rounds in a fight. Who gives a s*** if you won a round? You lost."
McGregor is expected to return to action at UFC 200, dropping back down the weight divisions to contest his featherweight title.
READ MORE: UFC continues growth despite shock defeats for McGregor & Holm
Potential bouts include a rematch against Jose Aldo, who the Irishman beat in a record 13 seconds at UFC 194, or a clash with Frankie Edgar.