UFC 197: Jones v Cormier II could be blockbuster
Published time: 15 Mar, 2016 11:18
Edited time: 15 Mar, 2016 11:24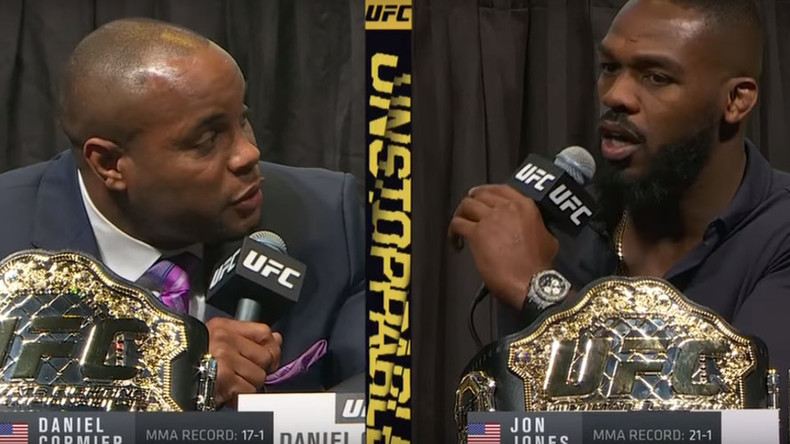 Jon Jones' return to competitive action at UFC 197 has the potential to produce one the most explosive night's in the competition's history.
The former light-heavyweight champion bids to regain his belt on April 23 against Daniel Cormier, after serving a near six-month suspension from the UFC.
Cormier won the vacant belt by beating Anthony Johnson last year, after Jones was stripped of the title and suspended following a hit-and-run incident in April.
Jones had tested positive for cocaine following the first fight against Cormier, while there was evidence of marijuana use inside his vehicle that night, leaving his UFC career hanging by a thread.
He was sentenced to 18 months' probation and ordered to make 72 appearances doing charity work and speaking to children, before being reinstated by the UFC in October.
There is a history of hate between Jones and Cormier which dates back to before their first fight. In August 2014 the pair got into a brawl at a promotional event which led to Jones being given a $50,000 fine and 40 hours of community service in Las Vegas by the Nevada Athletic Commission.
Earlier this month the duo locked horns again, trading insults at a UFC press conference.
Jones brought one of his old light-heavyweight belts, indicating that he still believes he is the true champion.
Cormier, who was jeered by the crowd, hit back at his rival.
"It shows how disrespectful, how disrespectful to come out there with that belt - it shows that he thinks there are no repercussions for his actions." he said.
"That's why he's up here with that title. If he understood his issues, he would not do that. He would respect what he lost because of his actions outside.
"But there is no change on that young man. He's doing the same type of s***. I haven't done all these things. I haven't wrecked my vehicle. I haven't been suspended. I didn't get stripped of my championship.
"You cheer this guy for saying he's not going to do these things anymore. I have done this my entire life, but you boo me. Thank you. Thank you."
Jones retorted by saying he was 'proud' of the changes he has made in his life.
"Can someone bring Daniel some Kleenex, please," he said.
"In my personal life I've made tremendous changes. People who actually know me would know that. Sobriety is something I haven't had since I was really young, so I'm really proud of myself for that. And my relationship with my family has gotten better. In every way my life has gotten better. I've made major life changes.
"I'm on a mission to prove to the world that you can get back on your feet after almost anything if you don't give up on yourself."
UFC president Dana White had been impressed with Jones' attitude since being reinstated.
"What's fascinating about Jon Jones right now is if you look at what this guy was doing in the past and how hardcore he's training now – It's almost scary," White said.
"The guy who's never taken it serious [sic] is literally taking it serious now. What's the new Jon Jones going to be like now?"
"He is in his prime right now - his physical fighting prime. He's never been more serious than he is right now. It's a scary combination."
The full UFC 197 main card
Daniel Cormier v Jon Jones
Demetrious Johnson v Henry Cejudo
Anthony Pettis v Edson Barboza
Robert Whittaker v Rafael Natal
Yair Rodriguez v Andre Fili