Zlatan Ibrahimovic set to leave PSG, Man Utd interested
Published time: 14 Mar, 2016 07:45
Edited time: 14 Mar, 2016 07:55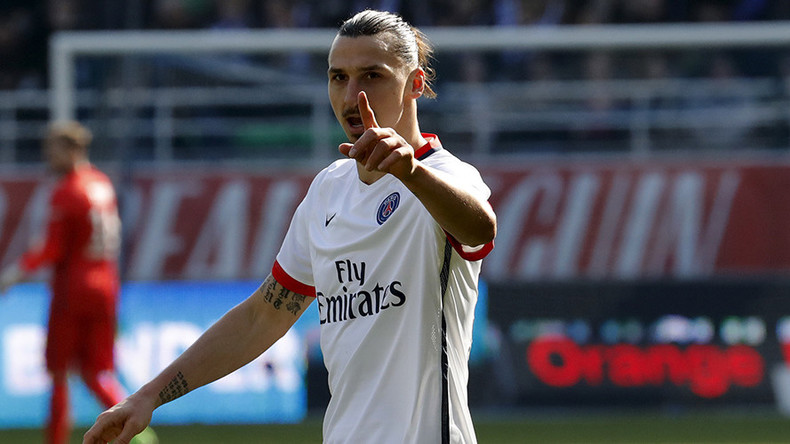 Paris St-Germain have won the Ligue 1 title in record time after a 9-0 victory on the weekend gave them a fourth consecutive title with eight games still to go. However, the club will lose star striker Zlatan Ibrahimovic at the end of the season.
Ibrahimovic and his agent have discussed next year several times in the past few months, dropping strong hints that this would be the 34-year-old's last season at the French club.
While manager Laurent Blanc and club president Nasser al-Khelaifi have publicly said they want their top-scorer to stay, privately they are resigned to the fact that Ibrahimovic's mind is made up and he wants a new challenge before his illustrious career comes to an end.
The Swede certainly showed his worth to PSG by scoring four - including a 10-minute hat-trick - in the 9-0 rout away at Troyes that sealed the title.
Ibrahimovic spoke after the game, talking about his great relationship with the club and joking about what PSG would need to do to keep him.
"I always had a good relationship with the fans," he said. "With the club, they always took care of me. I have always had [a] good relationship with everyone. This is not in question. But, for now, I will not be at PSG next season. I have one-and-a-half months left on my contract here. I will enjoy [it] while I'm still here. What will happen next year I do not know, but for now I will not be here.
"I do not think they can change the Eiffel Tower by my statue, so... Even the leaders of the club cannot, I think. But if they can, I'll stay here, I promise."
Social media users were quick to pick up on the comments, posting some interesting pictures of Ibrahimovic Photoshopped to show what he would look like as a giant replacement to the French capital's most famous landmark.
Now that the Swede is set to leave, the club most strongly linked with signing him are Manchester United, as they look to invest in world class talent to bolster a young, fragile squad. While rivals Chelsea are also rumored to be interested, Manchester United have been more active in contacting Ibrahimovic's representatives.
There is the potential of the deal falling through if United don't qualify for the Champions League next season. On current form, that is more likely than not, with United sixth in the league, four points behind fourth-placed Manchester City with only nine games left in the season.
Ibrahimovic has a long-held interest in playing in the Premier League and Arsenal could be a backup option for the PSG striker if United fail to make it to the Champions League.
Other Premier League clubs are out of the question for one reason or another - Leicester and Tottenham are unlikely to be able to afford Ibrahimovic's wages, while the striker famously fell out with Manchester City's incoming manager Pep Guardiola while the pair were together at Barcelona.
READ MORE: Manchester City announce Pep Guardiola as next manager
Liverpool could potentially step in to hijack the deal if they make a miraculous ascent in the league table and snatch fourth place - however with the club seven points behind, a route to the Champions League through winning the Europa League is more likely.
For United, even that route is seemingly closed off after a 2-0 defeat in the first leg of their Round of 16 game against Liverpool last week. The return leg plays out this Thursday, with United at home but still the underdogs, considering the deficit they need to overturn.
One thing's for sure - if United or any other Premier League side can bag Ibrahimovic over the summer, England's top tier will be all the more interesting for it.