UFC star Miesha Tate gets own back on Vegas cop who checked out her butt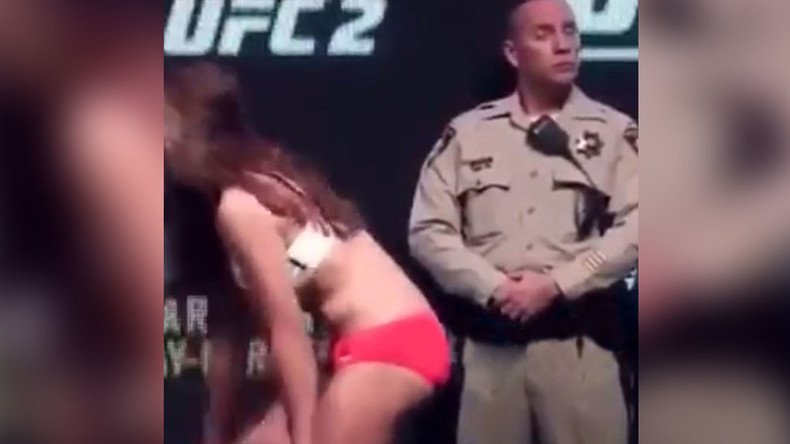 Meisha Tate has levelled the score with the cop who was caught checking out her ass as the fighter put on her shorts during the press conference for her recent UFC 196 fight in Las Vegas.
The cheeky officer became an internet sensation after UFC Coach Rafael Cordiero posted an Instagram video in which the cop can be seen sneaking a peak at Tate's behind.
The video was also shared by MMA daily, and shows the officer trying his level best not to look, feigning an earnest expression and pretending to be staring off into the distance, before finally caving to temptation and glancing at Tate's booty.
Now though, Tate has got her own back on the ogling officer by tracking him down and checking out what he has to offer in the rear-carriage department.
All done in good humor, the UFC women's bantamweight champ posted the clip to her Instagram account, with the description: "Some of you Will get this right away! If you don't watch the viral YouTube video of officer Russel Mettke and I at weighins this past friday! Paid him a little surprise visit today."
Tate is clearly not a woman to be messed with - she went on to win the bantamweight title at UFC 196, defeating former champion Holly Holm by strangling her unconscious.
Read more: UFC 196: Meisha Tate beats Holly Holm
At the same event, Conor McGregor was defeated by Nate Diaz in a shock result that saw the Irishman submit after being caught in a rear-naked choke hold.
Read more: UFC 196: Nate Diaz overpowers Conor McGregor in a shocking win
You can share this story on social media: