'Boxing is in our blood': Pakistani girls fighting for better life through sport (VIDEO)
Published time: 1 Mar, 2016 18:12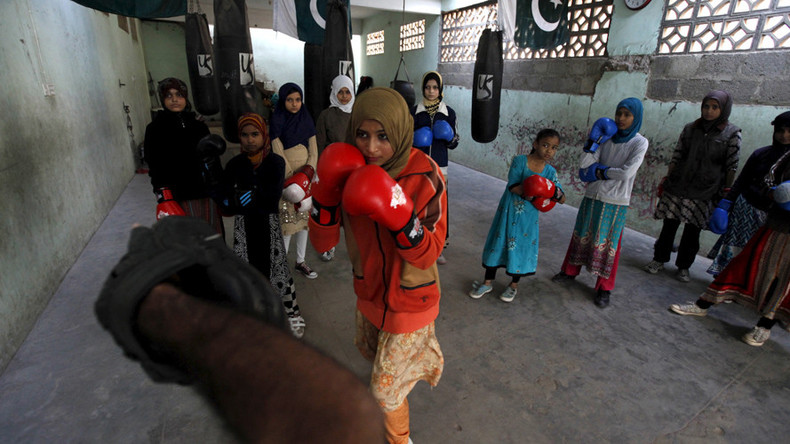 A group of young girls in Pakistan are hoping boxing can provide a pathway to a better future.
Based at the Pak Shaheen Boxing Club in Lyari, Karachi, 12 girls aged eight to 17 are trying to develop their skills in the hope of securing success on the international stage.
"I have been training since I was a child," said Urooj Qambrani, 15. "Inshallah [God willing], I will become an international boxer – I will make Pakistan's name famous."
Lyari is one of Karachi's oldest areas and has few schools, a poor water system, broken roads, limited infrastructure and a high rate of crime.
The club's founder, Younis Qambrani, has been training boxers since 1992 and last year sent athletes to compete in the South Asian Games.
Poor facilities and a lack of equipment are a major hindrance to the sport's development in Pakistan, while females face the further barrier of living in a conservative Muslim society.
Threats from the Taliban for going to school or violence from members of their own family for anyone believed to have brought shame to the family name are just two of the obstacles they must overcome.
The government is gradually helping to grow the sport, supporting a camp last October for female boxers in Karachi.
Some of the girls in Qambrani's family, who had previously been training at home, took part in the camp and asked him afterwards why they couldn't train at his club.
"A number of girls were keen on training, but due to social pressures, I had been avoiding the issue," Qambrani said.
"Last year a girl came to me, asking why girls couldn't train. I was moved when she said, 'No one teaches us how to defend ourselves.'"
Some of the girls have since taken part in tournaments, while Qambrani's own 17-year-old daughter has finally been able to follow her dreams of being a boxer.
"My two uncles are international boxers, and my father is a coach," she said. "Boxing is in our blood."
Boxing in Pakistan has also received some high-profile backing, with Britain's two-time former world champion Amir Khan visiting Karachi during 2015 to help create new boxing academies.
Khan's parents are from Pakistan, and during his trip he was keen to try to unlock some of the potential the nation has for boxing success.
"I think we have the talent to produce boxing champions," he said during the visit. "I have made a promise to the nation that I will pay back what I have achieved in boxing."
"I am here to meet potential champions and I am not afraid of anything, we will beat terror and produce boxers of top quality."