Swedish athlete Abeba Aregawi fails doping test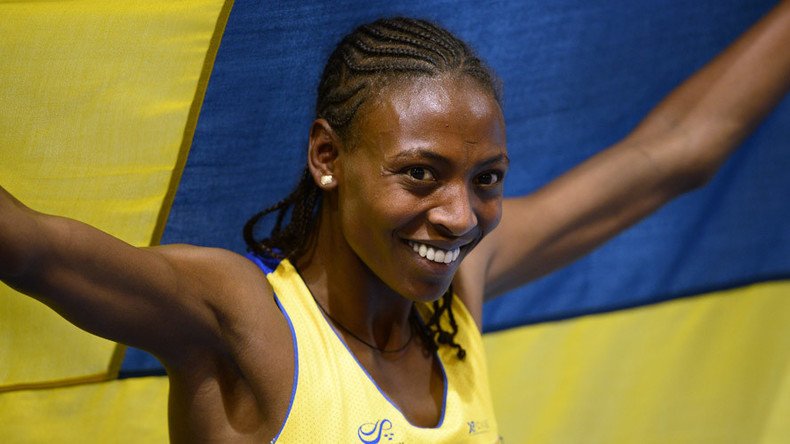 Ethiopian-born Swedish runner Abeba Aregawi has tested positive for a banned substance and has withdrawn from competition for the foreseeable future.
Aregawi is a former 1500m world champion. The news adds to a number of controversies that have surrounded the 25-year-old in recent years.
An International Association of Athletics Federations (IAAF) spokesman confirmed the positive test, which is believed to have taken place in Addis Ababa in January.
"Following notification of the laboratory finding, the athlete has voluntarily withdrawn from competition until the investigations into the laboratory finding are completed," a statement reads.
"In the meantime, the athlete has requested the analysis of the B sample, which will be conducted shortly.
"The IAAF and the Swedish Athletic Federation will not make any further comment until completion of the result management procedure."
Swedish Athletics General Secretary Stefan Ollson condemned the positive test.
"We are totally opposed to all forms of cheating, doping and illicit funds. We have a zero tolerance, and this is totally unacceptable," he said.
There are rumblings in the press that Aregawi is the first of a host of Ethiopian-born athletes that have failed drugs tests, with reports suggesting more African runners are under investigation.
Rumors had been circulating that Aregawi had tested positive, which has now been confirmed. She was due to face off against world record holder Genzebe Dibaba in an eagerly awaited one-mile race last month, but pulled out due to a back injury.
The African athlete has competed for the European nation since 2012, but her Swedish citizenship has come under scrutiny.
Aregawi has been found guilty of tax evasion after admitting she has never lived in Sweden and hence did not feel she was liable to pay tax.
Her marriage and subsequent divorce from Swedish husband Henok Weldegebriel has also been looked into, with claims it was a ploy to get citizenship.
#Athletics If the rumours are true and Aregawi's positive was the result of target testing then this is a welcome coup for IAAF anti-doping

— Hilary Evans (@OlympicStatman) February 29, 2016
Aregawi won gold at the 2013 World Championships in Moscow, with a modest 4:02.67 enough to win the 1500m final.
The 25-year-old's place at the Olympic Games looks under real threat, with the results of a B sample set to seal her fate.
Should Ethiopia become caught up in a doping scandal, it would follow similar controversies in Russia and Kenya ahead of the Olympics in Brazil this summer.
You can share this story on social media: