NBA: Davis breaks franchise record with 59 points, James laughs off heckler
Published time: 22 Feb, 2016 21:09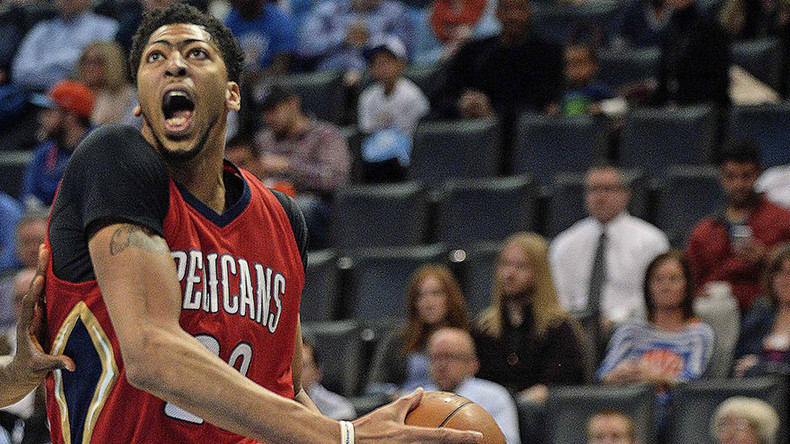 Anthony Davis produced a stunning virtuoso performance to lead the New Orleans Pelicans to a 111-106 victory over the Detroit Pistons.
Davis bagged a franchise-record 59 points to beat Jamal Mashburn's previous total of 50 set 13 years ago against the Memphis Grizzlies.
He also smashed the scoring record for the Palace of Auburn Hills, set in 2007 by LeBron James, which was 48 points during an Easter Conference finals game.
Davis added 20 rebounds, made 24 out of 34 shots from the floor, hit both his 3-point attempts and missed just one free throw from 10 tries.
The 22-year-old joined Shaquille O'Neal and Chris Webber as the only NBA players with 50 points and 20 rebounds in a game since 1983. He also became just the 20th player in NBA history to score 59 points in a game and is the youngest ever to achieve this.
Davis was understandably delighted with his performance: "You just feel like you're really locked in, and the rim is really big," he said.
"Like I said, it was like any shot you put up is going in. But you're just locked-in. You feel like you want the ball at all times. Any time you touch it, it's gonna go up. That's how I felt tonight.
"They were going in, so when they keep going in, you get more and more locked in. Then your teammates have fun with it and get locked in as well."
Cleveland Cavaliers won their fifth game in a row to move to 40-14 for the season after a 115-92 victory against Oklahoma City Thunder.
Kevin Love scored 29 points for the Eastern Conference leaders, including nine of 18 from the field and 11 for 12 at the free throw line, while LeBron James grabbed 25 points, 11 assists and seven rebounds.
James was heckled during the game by a middle-aged woman as he was querying a call with the referee.
The woman shouted: "Just suck it up, LeBron!" with television cameras picking up the outburst, which James ignored at the time.
After the game James posted a clip of the incident to his Instagram account with the message: "I guess she told me!! Hahahaha #JustSuckItUpLeBron #NoMomo #Classic."