English FA backs UEFA candidate Infantino for FIFA presidency
Published time: 18 Feb, 2016 16:39
Edited time: 18 Feb, 2016 17:07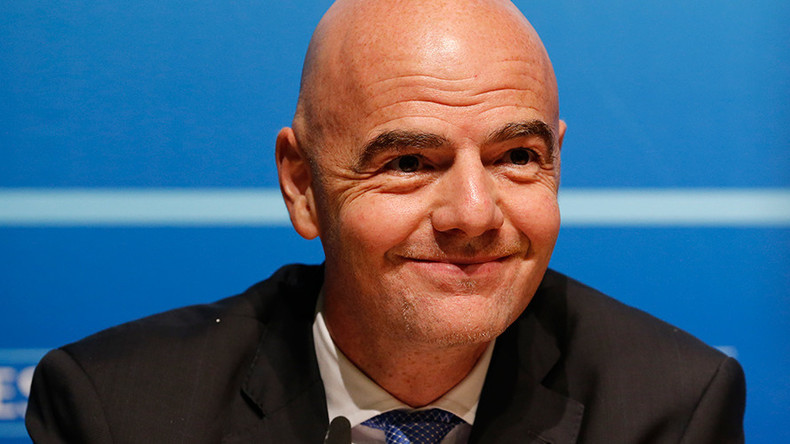 The English Football Association has confirmed it is backing Gianni Infantino's candidacy for the FIFA presidency instead of the reform candidate Prince Ali, whom it had backed last year.
Prince Ali bin al-Hussein, Jerome Champagne, Sheikh Salman bin Ebrahim al-Khalifa, and Tokyo Sexwale are competing against Infantino to replace disgraced former president Sepp Blatter at next week's FIFA election.
Infantino and Sheikh Salman of Bahrain are the favorites to replace Blatter, and FA chairman Greg Dyke has given his support to the 45-year-old Swiss.
He said: "We decided that we would back Gianni Infantino. I spoke to every candidate either in person or on the phone.
"We were impressed by Gianni. We were also impressed by Prince Ali, but in the end we decided to go with the UEFA candidate."
The FA had previously backed Prince Ali in his unsuccessful bid to oust Blatter last year, and with Infantino closely linked to ex-UEFA boss Michel Platini, it was thought the organization would favour the Jordanian in this election – but it appears its loyalty to UEFA has proven too strong.
Dyke has also expressed concerns over Sheikh Salman's suitability for the role in light of Bahrain's human rights records.
The Asian Football Confederation president has been questioned over his involvement in a clampdown on pro-democracy demonstrators in 2011.
It was reported that 150 athletes were detained and some of them tortured, but Salman has denied the claims.
"I personally have a problem with Sheikh Salman," Dyke said. "I don't think anyone from Bahrain should be president of FIFA.
"Given what has happened in Bahrain in recent years, given their attitude to human rights, there is no doubt that footballers in Bahrain were put in prison and tortured because they didn't agree with the regime.
"I'm quite happy to accept the Sheikh wasn't part of that, but he still comes from Bahrain and I just think that is completely the wrong message for world football.
"It's a tough job for whoever wins because what you really need is a reform program. A reform program is much more important than who the president is."
Mobile phones and cameras will be banned from polling booths at the elections after Jerome Champagne raised concerns over votes remaining secret.
He spoke with the electoral committee after discovering some voters were being pressured to photograph their ballot papers to prove they had taken part.
Champagne brought the matter to the head of the electoral committee, Domenico Scala, who confirmed all electronic recording devices would be barred from the voting booths.
Prince Ali had spoken out about the possibility of recriminations for member associations who refused to toe the party line, but the ban means voters can make their choice freely.