Phaneuf to Senators; Stamkos to Leafs?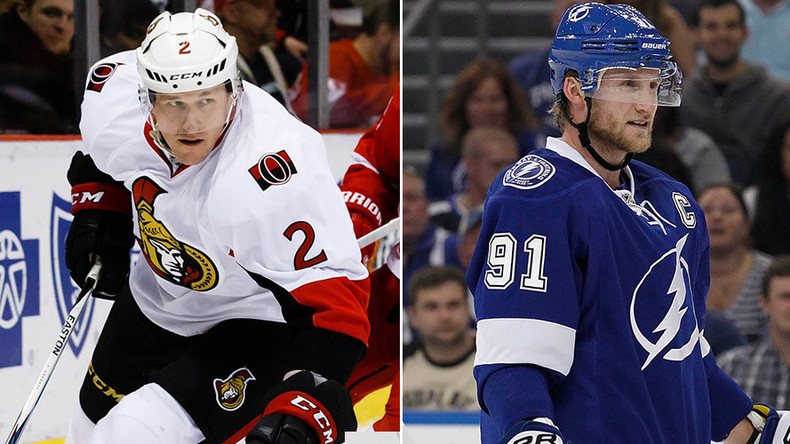 The Toronto Maple Leafs' "five-year rebuilding plan" gathered pace this week when captain Dion Phaneuf was traded to the Ottawa Senators in a nine-player mega-deal.
Forwards Matt Frattin, Casey Bailey, and Ryan Rupert, as well as defenseman Cody Donaghey, joined Phaneuf in Ottawa, while the Maple Leafs got defenseman Jared Cowen and forwards Milan Michalek, Colin Greening, and Tobias Lindberg, along with the Senators' second-round pick in the 2017 NHL Draft.
"This gives us the opportunity to do things," said Leafs' General Manager Lou Lamoriello.
"But it also gives us the opportunity when some of our younger players that are coming at the end of their entry-level contracts, who we have high expectations for, to be able to sign them."
"This was a transaction that certainly wasn't for today."
Phaneuf's departure follows last year's trades of Phil Kessel to the Pittsburgh Penguins and Doug Clarkson to the Columbus Blue Jackets, saving the Leafs just over $19 million annually through to the 2019/20 season.
"Dion is going to leave a hole in our line-up, there's no question," Lamoriello added. "But I think as I've said continuously, what the overall plan is, that when you have an opportunity to do this, you do it. This is a transaction that I think we had no choice with."
The Senators' General Manager, Bryan Murray, was delighted to add Phaneuf to his team's roster.
"I don't think I've heard one thing other than he's a real good person, he competes, he wants to win," said Murray. "He's been in a tough environment – he's been judged very tough in the environment he's in."
"We don't expect him to come in and be a savior. We expect him to come in here and just be the hockey player he is."
With just under three weeks to go until the trade deadline, speculation continues about other potential moves.
Steven Stamkos' contract situation with the Tampa Bay Lightning has yet to be resolved, and with the Maple Leafs freeing up salary, a move north could be in the cards.
The Florida Panthers, who look well set to clinch a play-off berth this season, have been linked with the Winnipeg Jets' Andrew Ladd.
General Manager Dale Tallon knows the veteran forward from their days with the Chicago Blackhawks and, with a salary cap hit of $4.4 million, he could be a useful option for the Panthers.
Petr Mrazek's netminding form for Detroit casts doubt over Jimmy Howard's future with the club.
The Calgary Flames and Buffalo Sabres are both in need of improvement in the goaltending department, while extra forward options could help the Red Wings as they aim to reach the play-offs for the 25th time in a row.
You can share this story on social media: