Super Bowl 50: How the US experienced the biggest night in football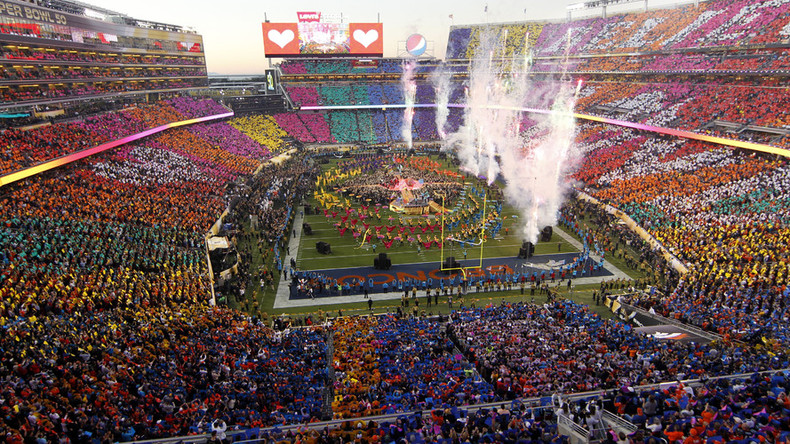 Beyoncé and Bruno Mars rescued the Super Bowl 50 half-time show with an inspired sing-off that left Chris Martin and Coldplay somewhat in the shadows, while President Obama has revealed he enjoyed a traditional big game party with family and friends.
Coldplay performed a selection of past hits including 'Yellow' and 'Paradise,' before bringing things up-to-date with 'Adventure of a Lifetime' from their latest album 'A Head Full of Dreams.'
Mars followed Martin onto the stage, and the crowd exploded when they were joined by Beyoncé for a duel between 'Uptown Funk' and the former Destiny's Child singer's 'Single Ladies' tune.
Coldplay's rendition of 'Clocks,' backed by a montage of past Super Bowl performances on the big screen, finally showed they belonged alongside the likes of Beyoncé and Mars.
Beyoncé's performance has been the subject of much debate since the show, referencing as it did the politically-charged issue of black civil rights in the US.
With advertising slots costing around $5 million for a 30-second segment, the major brands took a safety first approach, generally avoiding anything too edgy.
Nationwide Mutual Insurance's controversial 2015 ad featuring a dead boy talking about child safety may have been responsible for companies adopting a softer approach this time round.
"Brands played it safe, using a lot of levity and humor," said Derek Rucker, professor at Northwestern University's Kellogg School of Management.
"We didn't see too many emotional or too many deep ads. Most of them played it really safe, really light-hearted."
Doritos arguably had the strangest ad, featuring a fetus on ultrasound reaching for a chip, while legendary British actress Helen Mirren was the star of Budweiser's eagerly-anticipated offering.
Anheuser Busch struck lucky after the game when Broncos' winning quarterback Peyton Manning said he would celebrate by drinking Budweiser. The company Tweeted that it hadn't paid for the mention.
Fans hoping for a cheap day out at Super Bowl 50 were left extremely disappointed. Most beers on sale cost between $13-15, while there were some eye-watering food prices, too.
A jumbo hot dog was $11, a slice of pizza cost $10 and popcorn was $15.
Clothing was also expensive, with T-shirts priced at $25, caps at $40 and a Super Bowl 50 Manning jersey a staggering $175.
Security in and around the Levi's Stadium was heavy, with Denver Broncos and Carolina Panthers fans welcomed by the sight of armed soldiers and armored vehicles ringing the approach to the ground.
Bomb-sniffing dogs and police officers kept a watchful eye inside the security ring, with fans passing through metal detectors and body searches on their way into the stadium.
Air Force fighter jets enforced a no-fly zone, while Black Hawk helicopters circled, ensuring nothing untoward could happen in the skies.
President Obama also got in on the Super Bowl act, sharing his and wife Michelle's game day rituals with CBS ahead of the event.
Speaking to CBS This Morning co-host Gayle King, Obama said he enjoyed a traditional Super Bowl Sunday with friends, sharing pizza, chicken wings and nachos – but he admitted everyone avoided the vegetable tray.
Michelle Obama was more focused on the half-time show, saying she hoped Beyoncé liked what she was wearing. The mid-game show typically gets a peak audience during each Super Bowl broadcast and this year was no different, with an estimated 115.5 million viewers watching the show.
Super Bowl 50 was also a magnet for party-goers, with a range of events on offer, including Dallas Mavericks owner Mark Cuban's DirecTV Super Saturday Night Party featuring the Red Hot Chili Peppers. For people not on the guest list, tickets cost $2,000 each.
The event also made a splash in space, with American astronaut Scott Kelly hosting his own Super Bowl party at the International Space Station.
However, viewership numbers in the US did not quite reach the highs expected, with Super Bowl 50 pulling in an estimated average of 111.9 million viewers on CBS, while Super Bowl XLIX (New England Patriots v Seattle Seahawks) and Super Bowl XLVIII (Broncos v Seahawks) pulled in 114.4 million and 112.2 million respectively.
You can share this story on social media: