UFC: Dana White thinks McGregor will lose to Dos Anjos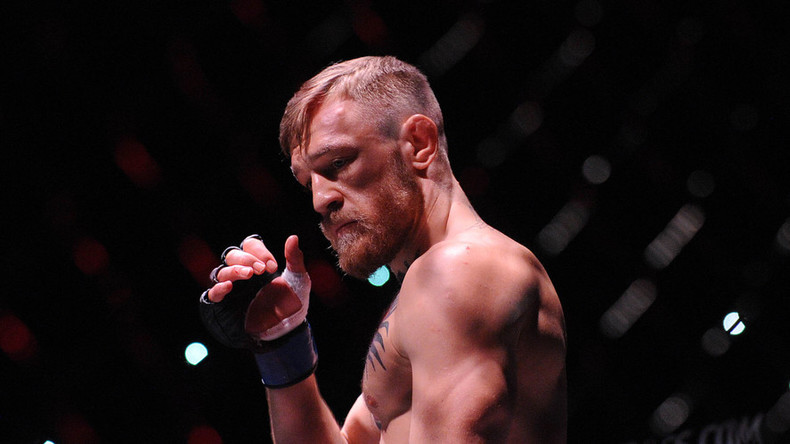 Dana White says Conor McGregor is unlikely to beat lightweight champion Rafael dos Anjos at UFC 196 next month.
The UFC boss believes the size difference between the two fighters leaves McGregor facing an impossible task as he looks to become a dual champion.
"I don't see how he wins this fight," said White. "McGregor's the 145-pound champion, he can stay in his own lane, but this guy's moving up to 155 to take on an animal who destroyed Cowboy Cerrone, destroyed Anthony Pettis.
"This isn't like boxing, where you move up two or three pounds, you move up 15 pounds."
The featherweight champion, who defeated Jose Aldo in just 13 seconds at UFC 194 to claim the title, normally weighs around 170 pounds, so the drop to 155 won't be as grueling for the Irishman.
McGregor's recent comments on Twitter also suggest he's not concerned about fighting at a different weight.
While McGregor and Dos Anjos prepare to do battle, UFC new-boy CM Punk's first opponent could well be Mickey Gall after his quick submission win against Mike Jackson at Saturday's UFC Fight Night 82 in Las Vegas.
Gall has targeted a fight with Punk, possibly at UFC 200 in July, after entering the promotion following an appearance on the 'Looking for a Fight' reality show.
Gall said after his win against Jackson: "Last time I was on the mic, I was talking about one guy - CM Punk.
"And I'm still talking about CM Punk - I want to be fed, I'm hungry - feed me CM Punk, please!"
Punk stepped into the cage after the fight for a friendly stand-off with Jackson, which featured smiles, handshakes and the pair posing for pictures.
With Punk's well-known ability to 'sell' a show – something he honed during his time with the WWE – it's likely their next meeting could be less amicable if White confirms the bout.
Elsewhere on the card at UFC Fight Night 82, ex-welterweight champion Johny Hendricks' hopes of gaining another title shot were dealt a shattering blow by Stephen 'Wonderboy' Thompson.
Hendricks started the fight well, but Thompson's use of a stiff jab and array of kicks quickly put his opponent on the back foot.
After Hendricks tried to come forward again, Thompson fired a big right which staggered his opponent and he followed up with more punches, before delivering a stunning back-kick to the body.
Thompson kept up the pressure, forcing referee 'Big' John McCarthy to step in and stop the bout.
He now wants a shot at the welterweight crown: "I came out here to put on a good show. Hopefully everyone was impressed," said Thompson. "Hopefully we get that title shot baby. That's what I want."
A busy week for the UFC was rounded off by the confirmation that light heavyweight champion Daniel Cormier and stripped title holder Jon Jones will co-headline UFC 197 in April.
Jones hasn't fought since his successful title defense against Cormier in January 2015. The UFC stripped Jones of the title in April and suspended him after he was arrested on hit-and-run charges.
He was reinstated in October after pleading guilty to leaving the scene of an accident.
Cormier won the championship by defeating Anthony Johnson at UFC 187 in May. He has defended the title once since then, beating Alexander Gustafsson by split decision in October.
The flyweight championship match between Demetrious Johnson and Olympic Gold Medal wrestler Henry Cejudo is the other co-main event.
You can share this story on social media: